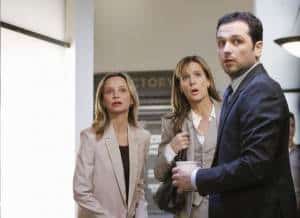 A special two-hour episode of Brothers & Sisters will be airing on April 10 on ABC. Brothers & Sisters will begin at a special time of 9:00 p.m. on Sunday.
In the first episode, entitled 'Olivia's Choice', Olivia's brother will make a guest appearance and attempts to gain custody of her from Kevin and Scotty. The rest of the Walker family try to figure out what's best for Olivia and her living situation.
The second episode is called "Never Say Never", and it's going to be an emotional episode. Nora and Saul will learn that their mother, Ida, has passed away and will have to deal with the news, as will the rest of the walker family.
Expect to see more new episodes of Brothers & Sisters on April 17 and April 24. Below are four sneak peeks from ABC for the upcoming April 10 episode of Brothers & Sisters.
clarissa @ tvovermind.com
twitter.com/clarissa373
twitter.com/tvovermind