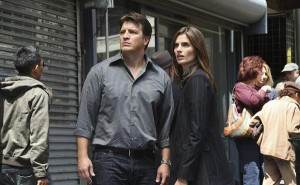 ABC has released three sneak peeks for the upcoming episode of Castle called "Under the Gun". Here is a blurb about the episode:
CASTLE & BECKETT TRY TO SOLVE THE MYSTERY OF A DEAD BAIL BONDSMAN, ON ABC'S "CASTLE"

"Under the Gun" – When a coded document hidden by a murdered bail bondsman gets Castle's imagination running wild, Beckett must steer the case back to the violent felons who populated their victim's world – only to discover that maybe Castle's crazy theories aren't so crazy after all. Complicating matters is the surprise arrival of Beckett's ex-partner (now a bounty hunter). As the two reunite over a history that Castle has no part of, Castle is forced to watch the relationship take a turn towards the romantic, on "Castle," MONDAY, OCTOBER 4 (10:01-11:00 p.m., ET), on the ABC Television Network.

"Castle" stars Nathan Fillion as Richard Castle, Stana Katic as NYPD Detective Kate Beckett, Susan Sullivan as Martha Rodgers, Molly Quinn as Alexis Castle, Ruben Santiago-Hudson as NYPD Captain Roy Montgomery, Tamala Jones as Medical Examiner Lanie Parish, Jon Huertas as NYPD Detective Javier Esposito and Seamus Dever as NYPD Detective Kevin Ryan.

Guest Cast: Jason Beghe as Mike Royce, Sophina Brown as Gayle Carver, Keith Robinson as Random Pierce, James Handy as Clifford Stuckey, Brian Krause as Father Arron Roe.

"Under the Gun" was written by Alexi Hawley and directed by Bryan Spicer.