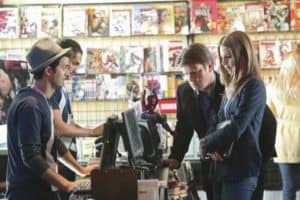 You know, I'll be the first to admit that I tend to like the more dramatic episodes over the funny ones. Not that the comedy aspect of Castle isn't good. Not at all. It's great, actually. I'm just not usually a comedy kind of girl. That said, next week's episode, "Heroes & Villains" looks like it is going to be hilarious. To keep the momentum going for its hit show (after a new high in the ratings with last night's "Rise"), ABC has just released a few clips of the next episode.
The much teased about Superhero episode will bring what seems to be the most gruesome murder yet (although the pizza one last season is serious competition for that title). Apparently, the poor victim will be split right down in the middle with a sword – a la Game of Thrones. Ouch.
In this episode, we will also see how excited Alexis is to attend Stanford and how not excited Castle is about letting his little girl graduate earlier to join her boyfriend all the way across the country to go to college. Can't blame him for not being thrilled about that. The poor guy has been through a lot and now, on top of everything, he has to face the fact that his daughter might be moving out.
There is also a glimpse of Castle's new graphic novel – Richard Castle's Deadly Storm – and lots of discussion about superheroes since their main suspect seems to be one. Don't forget to check out the promotional photos for next week's episode and for "Head Case", the third episode of season 4. While you're at it, if you loved the season premiere last night, you should take a look at my review here.
"Heroes & Villains" is scheduled to air next Monday, September 26th, at 10/9C on ABC.