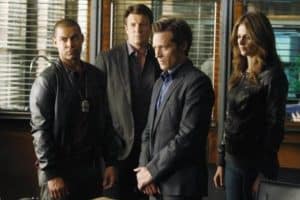 After the release of promotional photos for episode 4.05 – titled "Eye of the Beholder" and scheduled to air on October 17th – that caused the Castle fandom to nearly implode yesterday, ABC has just released the sneak peeks for next week's episode "Kick the Ballistics". Even in the midst of all the drama and confusion generated by the polemic set of pictures, I have to say that I am a lot more excited about the clips released today.
"Kick the Ballistics" will feature the return of the 3XK storyline and, if the videos are anything to go by, I think we have a really, really good episode to look forward to next Monday. In case you don't remember, the 3XK was the serial killer that fooled everyone and escaped with Detective Ryan's gun and badge in early season 3. Now, even though it looks like we won't be seeing Jerry Tyson (aka the 3XK) in this episode, his presence will be felt as the murder weapon used to kill the victim of the week will be identified as Ryan's old service piece.
I am really looking forward to this as this episode will finally be Seamus Dever's moment in the sun. We had an Esposito episode back in season 2 and now we will finally get to see the way overdue Ryan episode. Go ahead and check out the clips below. While you're at it, check out the promotional photos for "Kick the Ballistics" and, in case you haven't seen the polemic "Eye of the Beholder" photos, click here.
[jwplayer config="Custom Player" mediaid="96895″]
[jwplayer config="Custom Player" mediaid="96894″]
[jwplayer config="Custom Player" mediaid="96893″]