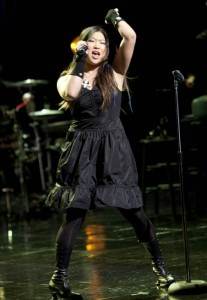 After another hiatus, Glee finally returns with an all new episode this week on April 19. The episode is packed with guest stars and some faces we haven't seen for a while, including Gwyneth Paltrow as Holly, Charice as Sunshine and Jessalyn Gilsig as Terri.
After discovering that another outsider club at McKinley High needs help raising money, the glee kids decide to help them out by putting together a show. Unfortunately, Sue (Jane Lynch) isn't happy about this display of solidarity between the geek kids at the high school, so she does her best to sabotage their efforts. She brings in her "League of Doom": Dustin Goolsby (the coach of Vocal Adrenaline), Terri (Will's ex-wife) and Sandy Ryerson (the former glee coach at McKinley).
In addition to Sue's scheming, Charice returns as Sunshine Corazon, who we last saw in the season 2 premiere many months ago. You might remember that Sunshine actually defected to Vocal Adrenaline after getting the cold shoulder from Rachel, who felt threatened by her talent. But now Sunshine is back, and she wants in on the McKinley glee club. Is this another Jesse St. James situation? Will she turn out to be a spy or are her intentions pure?
Below are two sneak peeks (courtesy of Perez Hilton), which show Sue assembling her team and Sunshine auditioning for the McKinley glee club by singing "All By Myself".
Don't forget to tune in to an all new episode of Glee on Tuesday, April 19.
clarissa @ tvovermind.com
twitter.com/clarissa373
twitter.com/tvovermind