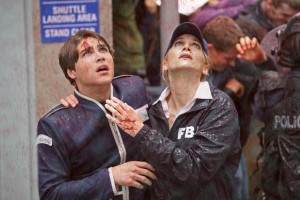 V returns for its second season on ABC on January 4 at 9:00 p.m. ABC promises big things for the second season of the show:
Season Two will feature more character and lizard reveals, more details about the V's mythology, while along the way featuring even more action and more plot twists. Viewers can expect a roller coaster ride week to week.
In the season 1 finale Valerie was taken to the mothership, delivered her baby and was given a lethal injection by Anna. Erica managed to destroy all but 12 of Anna's soldier eggs, while Chad was starting to realize that he was being manipulated. Joshua asked Erica to kill him to seem innocent, but was then brought back to life by the V doctors. Anna removed the cloaking on a huge fleet of V ships waiting in space and the Earth's skies turned red. In the season 2 premiere:
With Red Sky unleashed on the planet, the world is on the brink of war and there is chaos all around. Ryan is being kept in isolation on the mothership since Anna wants to experiment on his hybrid baby. Seeking redemption for being used by Anna, Chad wants to fight with the Fifth Column. Erica goes on a journey to find a scientist who can give her the answers to what Red Sky is and it's there she learns the horrifying secret of what the Visitors are planning to do.
Below are six sneak peeks from ABC for the season 2 premiere. Make sure to tune into an all new V episode on January 4!
clarissa @ tvovermind.com
twitter.com/clarissa373
twitter.com/tvovermind