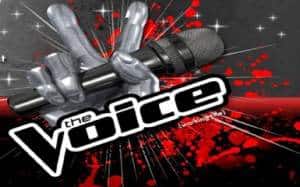 The Voice premiere was a big hit for NBC and had the highest demo ratings for a show all season. A new two hour episode will be airing tonight from 9:00 p.m. to 11:00 p.m. ET. As of May 10, The Voice will move to its regular time slot of 8:00 p.m. to 10:00 p.m.
In tonight's new episode of The Voice, hosted by Carson Daly, more contestants will perform to make it to the top 8. We have three sneak peeks for you below. The first features a contestant named Dia Frampton singing Colbie Caillat "Bubbly". The second features a contestant named Tim Mahoney singing Sam Cooke's "Bring it on Home to Me". The final video features a contestant named Nakia singing Cee Lo's own "Forget You". Certainly a gutsy move by a contestant.
Did you also hear the news that more singers will be joining The Voice? Reba McEntire, Monica, Sia and Maroon 5 music director Adam Blackstone will join Voice coaches Blake Shelton, Christina Aguilera, Cee Lo Green and Adam Levine over about four episodes to give advice to the coaches and the individual competitors. More advisers are expected to join The Voice as the show continues its season.
Don't miss an all new episode of The Voice, beginning at 9:00 p.m. on NBC tonight.
clarissa @ tvovermind.com
twitter.com/clarissa373
twitter.com/tvovermind