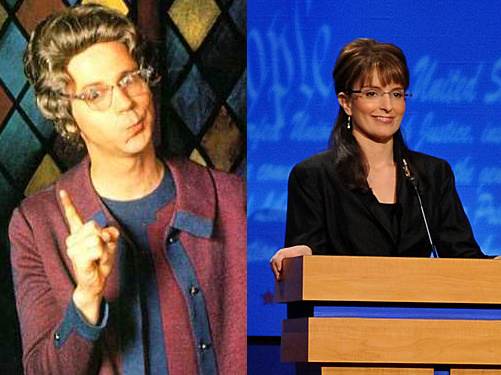 Remember when you couldn't wait for Saturday night to get here so you could get your weekly fix of political satire and gut-busting comedy sketches? No? If you dig really far back into the recesses of your mind you may find a vague recollection of those days gone by.
The humor level is dropping so consistently week after week, the occasional gem aside, that after watching the depressingly unfunny Scarlett Johannsen episode this week, I'm thinking Saturday Night Live should consider having its name changed to Still Not Laughing.
Sure, SNL's creativity has always fluctuated with cast changes, and of course it takes some time to gel with the writers and get characters down, etc., I get that. But I just cant stomach the thought of having to sit through another round of "What's Up With That" or that nebbish Mexican talk show Fred Armisen hosts.
It seems anymore like SNL only perks up whenever former cast members are invited to return for cameos or revive former hit characters, such as Tina Fey did as Sarah Palin last season.
This got me thinking. SNL loves to do specials. So why not do a series of prime-time episodes, similar to how they did back in 2008, where they bring back former cast members to revisit classic SNL characters in a new series of mash-up sketches?
Just off the top of my head, here are some epic crossovers I'd like to see:
The Church Lady interviews Sarah Palin and Tiger Woods – The Church Lady (Dana Carvey) hurls her trademark judgmental zingers at both Palin (Tina Fey) and Woods (Kenan Thompson) before inviting them in for a group superior dance.
The Coneheads visit the Jersey Shore – Snooki (Bobby Moyhihan) lures Beldar (Dan Akroyd) into the hot tub and tries to make-out with him, while Prymatt (Jane Curtin) attempts to make sense of The Situation's (Bill Hader) otherworldly abs.
The Spartan Cheerleaders and One-Legged Amber – Amber (Amy Poehler) rocks her one leg in a hopscotch competition while Craig and Ariana (Will Ferrell, Cheri Oteri) cheer her on. I can already hear Ariana shouting to Alexis in the stands that Amber's farts are "kinda stinky."
Bret Michaels and Hot Girl Shanna stop by Wayne's World – Wayne and Garth (Mike Myers, Dana Carvey) fawn over rock legend Michaels (Jason Sudekis), who tells them he's ready to settle down with Shanna (Kristen Wigg). They initially "schwing," but then threaten to "hurl" and "spew" over her gross-out ways.
Land Shark makes a call upon George W. Bush – LandShark (Chevy Chase) taunts and then devours Bush (Will Ferrell). No further explanation needed here I think.
SNL Digital Short – The Laser Cats recruit Toonces the Driving Cat to fly their spaceship.
Mary Katherine Gallagher meets the Glee Kids – Mary (Molly Shannon) transfers to McKinley High and challenges Mercedes (Kenan Thompson) for a solo in Glee Club while trying to make out with Kurt (Andy Samberg), Artie (Fred Armisen) and Mr. Shue (Jason Sudekis).
Of course, this wouldn't do anything about the quality of the regular weekly episodes, but it sure would go a long way in putting some juice back into the brand.
What do you think? Any other character mash-ups you'd like to see?