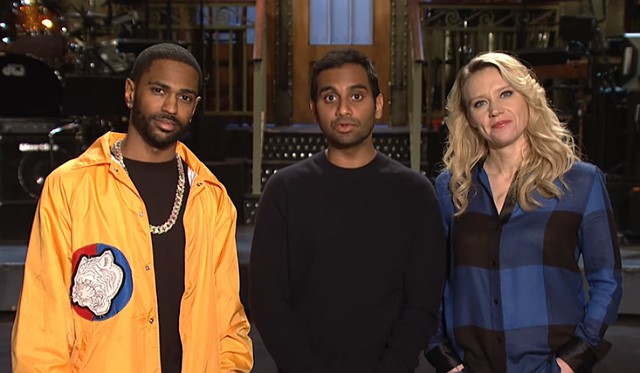 Although a majority of Americans would say that the worst thing to happen to America is Donald Trump running for and winning the Presidency, it may be the best thing to happen for Saturday Night Live (SNL). Â This season in particular has had some truly great commentary on the current political reality.
SNL's thoughts on President Trump have been on display for a while now. Â However, this episode, done the day after Donald Trump officially became the President of the United States, stands out as its best overall show.
Some of this has to be credited to the show's guest star, Aziz Ansari. His work as a comedic actor on NBC's Parks & Recreations (2009-2015) made him a familiar face, but it's his killer standup comedy specials that shed light on his brilliance as a comedy writer. His current sitcom on Netflix, Master of None, is one that he also co-created and co-writes. Watching this episode of SNL it felt like he'd spent some quality time in the writer's room with the SNL gang. Â His comedic style was definitely present in the tone and setups of many of the sketches.
It's not just Ansari though. Â The arrival of Trump onto the political landscape has given SNL (and everyone else who does comedy) a new energy and focus. Â They say that it's good to laugh in the face of fear. Â SNL's thoughts on President Trump lets viewers do just that.
Another idea often tossed about is that good art comes from suffering. That may not necessarily be true. Â What does seem true is that in terms of political satire it's hard to make fun and pointed commentary about someone you admire and respect. Â For example, the jokes about the ears of former President Barack Obama got old fast – especially since he seemed to find them amusing as well. Â There wasn't anywhere to go with it. Â With the new president the stakes, the tweets, and thus the comedy, keep growing.
The Cold Opening
Alec Baldwin has been doing the cold opening as Donald Trump practically every week since the 2016 U.S. election.  The choice to not have him do it the day after Trump was sworn into office makes a statement about SNL's thoughts on President Trump.  Who they open with instead said it even more:  Beck Bennett as Russian President Vladimir Putin!
[youtube https://www.youtube.com/watch?v=LNK430YOiT4]
It was funny to see the skewering of the blatant difference between the relatively small crowds for Trump's inauguration and the massive Women's March on Washington protesting his presidency the next day.  However, there is a real sense that SNL is whistling in  the dark.  As more investigations go on about Russia's involvement in U.S. elections – and if anyone in his camp had a part in it – much of the sketch elicits nervous laughter.
Putti's going to make everything okay. Â I promise that we will take care of America. Â It's the most expensive thing we've ever bought.
The bit about those who protested Putin in Russia magically disappearing, was another bit of funny, but scary to think about, moments.
The Opening Monologue
Ansari's Monologue just became my favorite of the season.
What the hell has happened? I'm sitting here wistfully watching old George W. Bush speeches just because what a leader he was?
He then goes on to point out that until Trump he had little good to say about Bush. This is something I've heard said by liberals before, a nod to how far out of American norms Trump is. (You can check out that 10 minute monologue here)
However, as Ansari hilariously points out it's not just Trump that's the problem; it's some of his supporters, and the ways that American culture in general has some built-in racism. With flair he's shown in his comedy specials this guy totally nails the Trump effect!
The Musical Guest
The musical guest this week was the rapper Big Sean.  Both of his numbers were solid and thematically relevant to the show's opening sketch and monologue. The first was affirming the ability to get through things with God, the second was a reminder about the importance of family.
The Wrap Up
SNL has the difficult task of coming up and performing ninety minutes of comedic sketches a week – minus the musical guest's performances. Â Â Like in baseball, not every sketch can be a home run. What made this episode stand out was not only were there several home runs, but there really weren't any strike outs. Â Some of the other home runs were:
The send up of a certain franchised children's pizza joint that entails a mashup of the mannequin challenge and doing that 1970's dance called "The Robot."
Being arrested for not loving the super white & fluffy film LaLa Land over the serious and stunningly done African-American drama Moonlight.  (Preach, SNL, preach!)
Kate McKinnon as Trump counselor Kellyanne Conway in a gorgeous and snarky Hollywood musical spoof.  (You really need to watch this one!)
[youtube https://www.youtube.com/watch?v=sb9ybImGwkU?rel=0&w=640&h=360]
A Sunday date night sketch with Ansari and Vanessa Bayer that is hysterical – I mean, you will be crying with laughter!
The final number: a sweet musical tribute to Obama with Cecily Strong and Sasheer Zamata, "To Sir, With Love."
Like I said before, there were no sketches that struck out.  I'd say the rest were triples and doubles.  This is a good sign that for the next four years SNL will have welcome comic commentary on whatever lies ahead.
SNL Proves that Out of Great Adversity Comes Great Comedy