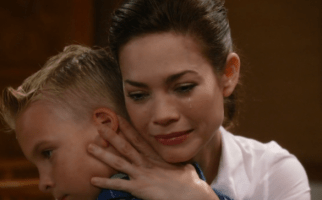 Secrets and lies are a staple of soap operas and they always will be. Sometimes it is nice when a character isn't caught, or punished, or scolded for a week. Sometimes the best drama comes from a character owning who they are. Let's see who was that brave this week on The Bold and the Beautiful, Days of our Lives, General Hospital, and The Young and the Restless.
The Bold and the Beautiful:
This week's events were a clear divide between the absolute best and the absolute worst. Some soap storylines are hit and miss, but then there are those that make you go "UGH!!!". I don't care if this Quinn kidnapping Liam and falling for him storyline does shed light on the Daffy Duck. You know things are bad when Deacon is the voice of reason. It's beyond inappropriate and insane, it's downright disgusting. Friday's episode actually left a bad taste in my mouth. My personal plea to the writers: end this lunacy as quickly as it started.
Thomas on the other hand finally stepped up. All of his behavior has been a series of horrible reactions to issues with his father. His conversation with Caroline was very honest and revealing to who he is as a character. So much so that you can tell Caroline is starting to feel guilty about hiding the fact that she is carrying Thomas's baby.
Performer of the Week:
For all the reasons above Pierson Fode delivered the best performance of the week. He wasn't overly emotional, just as honest as he could be. He didn't make excuses, he didn't try to place blame, he just laid out his regrets and hopes as truthfully as he could. It was the best Fode has ever performed on the show.
https://www.youtube.com/watch?v=xuL17oAjIfs
Days of Our Lives:
I may be in the minority here, but I actually like that Andre wants revenge on Hope. Before everyone starts jumping down my throat, let me explain. Andre will always be scum, and Hope will always be beloved. There is no denying however that as a result of a terrible few months, Hope crossed the line. Andre is in no way justified in going after Hope, especially through Chase, but the reasoning behind his actions is somewhat understandable. Chase is the most vulnerable target because he hasn't received nearly the amount of emotional support he needed. It's not Hope's fault, and it's not as if she didn't make the effort, but Chase needed more than she was able to give.
Poor Philip, he only has himself to blame for the messes he makes. He's not a bad guy, but the only word I can really think of to describe Philip is a schmuck. He gets into situations he can't easily extricate himself from, leaving Victor even more disappointed than the last time.
I was somewhat enjoying this Ava storyline until she blackmailed Steve into sleeping with her. You know a villain is truly a villain when a turn in their storyline causes you to have a pit in your stomach. It's too much to hope that she will go quietly into the night. I would actually like to see her find her son, because let's face it, if he exists he probably isn't as dead as she thinks he is. Other storylines I hope aren't a bait-and-switch: John finally finding his biological parents, Daniel Cosgrove's return to DOOL, and Jennifer's deepening pill addiction.
Doug and Julie are the couple to emulate on Days. It's only right that they set the tone for the Valentine's Day episode. I think I speak for all Days fans when I say how grateful we are for a beautifully written, love-centric episode. Ranging from the "Awww" moments to the hilarious ones, I wish this episode could be a contender for an Emmy nomination.
Performer of the Week:
Sometimes a winning performance isn't about the spectacle or raw emotion behind it, sometimes it's about being genuine. The electricity between Jen Lilley and Eric Martsolf this week was amazing. You could tell they had so much fun singing to each other with that ukulele! Their joy was infectious, a real treat for fans to see. A great soap couple is made through the little moments, and if this week was any indication, Brady and Theresa deserve to have a long future together.
General Hospital:
Love in the Afternoon is back people!!! Personally, I am a HUGE Jasam fan and so am beyond thrilled that they are finding their way back to each other! No, this is not going to be a rant about Elizabeth being a horrible person. In fact this week was the first time in months Elizabeth was a character to be proud of. After losing her home and nearly losing her child, she finally started acting like an adult. Elizabeth fessed up to all of her mistakes in front of Jake, taking full responsibility for the state of her life. The way she explained things also hammered home the point that Liz is a wonderful mother. Liz does deserve to be happy, just not with other women's men or inappropriate choices in men. Let's let Jason and Sam finally find their way back to each other once and for all!
As for Nikolas, well I barely recognize the once only redeemable Cassadine, so he deserves whatever he's got coming. Mark my words, Helena will find some way to make Nikolas pay his dues. Even dead in the ground Helena's ghost has a long reach.
Now before we all start labeling Kristina as a lesbian, let's pause for a moment. Kristina may very well be gay, but that is for her to decide. It is for her to figure out, and right now it may actually be a good idea for her to steer clear of her parents so that she can. It is clear that the thought of telling her parents about questioning her sexuality scares Kristina more than telling them she was suspended. This is a fantastic risk the writers took to explain to a whole new generation that sexuality exists on a spectrum. You could be anywhere on the LGBTQ scale, and that's okay. It's a process, and giving this story to a character like Kristina will definitely bring up plenty of layers within that process.
The more we get to know about Griffin Munro, the more likeable he seems. He brings a real authenticity to the show and to every conversation he has with another character. Him not having a clue who Sonny is made me giggle, and it was definitely impressive how well they get along as doctor and patient. It also doesn't seem like Munro comes with an excess of secrets and drama. He's just a nice guy and a nice doctor with his own story to tell.
This "Real Women" issue of Crimson is shaping up to be extraordinary. It was great when it was platform to discuss a woman's right to publicly breastfeed, but it has gone beyond that now. Opening the article up to young working moms like Maxie and atypical, fierce beauties like Epiphany was brilliant! Bravo writers, bravo!
Performer of the Week:
As horrible as Elizabeth's behavior was in 2015, there's a reason Rebecca Herbst has been such a staple of Port Charles for nearly 20 years. She was introduced as the love of Lucky Spencer's life the way Luke and Laura once were to each other so many years ago. For the past two decades both Becky and Elizabeth have grown up. Herbst takes everything she has and applies it to her on-screen counterpart. This was never more on display than this week when Herbst played the full gamut of Elizabeth in full-on Mom Mode. She was honest, she was contrite, she was nurturing, she was dedicated. I really hope Herbst sticks around for years to come.
The Young and the Restless:
"Ding-Dong, the witch is dead!" I've been hoping to use that for weeks! (Side note: I actually did use it when GH's Helena Cassadine finally bit it.) Actually, I kind of hoped I wouldn't have to use that for a couple more weeks, or however long it took for Dr. Anderson to be exposed for faking Christian Newman's death and giving him to Sharon. The truth will eventually have to come out, but right now I just can't see how with one witness having a nervous breakdown and mastermind dead. Poor Patty, she never really had a chance. Paul spends a lot of time defending Patty, when he should be trying to embrace the parts of her that are still cognizant. Most of the time she's not all there, but Patty has always had an incredible capacity for love and defending what she thinks is right, even if her point of view is screwy.
I'm actually cheering Noah on in his plan to take down Victor. Victor has screwed over all of his children, it was only a matter of time before he did the same to his grandchildren. Victor has Adam in a stranglehold because Adam has everything to lose. I'm actually desperately hoping Luca and Phyllis deliver a one-two punch to Victor. Noah has no such qualms since he feels like he has nothing left to lose. He's being a little naïve if he thinks he can take down Victor and have Marissa at the same time. There's not a person alive who's tried to take down Victor and hasn't paid a terrible price for it.
Are we ever going to dispense with the whole "lying to someone to protect them, in the name of the family" spiel?  Victor has used it for decades as an excuse to trample all over people, but now everyone else is using it too. Billy with Victoria, Phyllis with Jack and Summer, Ashley with Abby, Adam with Chelsea, and the list goes on. Maybe Kevin and Mariah should explain how being honest, even bitterly so, keeps the headaches away.
Performer of the Week:
This one was tough but I think I have to go with Stacy Haiduk. She definitely knows how to play Patty's insanity, but she also knows how to play her vulnerability and her views on what is right. The key to Patty is that she has always believed her actions were right at the time, and honestly the same could be said about Victor Newman. Whatever Patty has done she has always ultimately taken responsibility for, and she's certainly paid the price since she's spent most of her life in psychiatric hospitals. This time around she really was trying to protect herself, but the consequences were too much to bear. Haiduk really showed how childlike Patty is in her inability to cope with really serious things, which only makes us love Patty even when she's at her worst (which again, the same cannot be said for Victor Newman).
https://www.youtube.com/watch?v=-4gAj6NE1Wc
Do you agree or disagree with this week's performances?