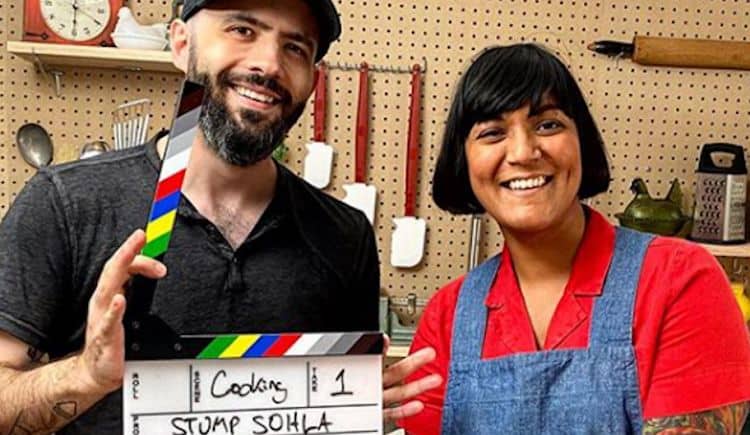 Food is obviously an important part of all of our lives, but for Sohla El-Waylly it's much more than just nourishment for our bodies. For the talented chef, food is a form of self expression and cooking is one of her favorite things to do. Sohla originally rose to popularity as an assistant food editor for the popular magazine Bon Appetit. As part of her job, she frequently appeared in videos on Bon Appetit's YouTube channel, and people all over the world fell in love with her personality and culinary knowledge. She parted ways with the publication in 2020 to start her own online show, and she's already off to a great start. Continue reading for 10 things you didn't know about Sohla El-Waylly.
1. She's A Trained Chef
There are lots of people who have become 'celebrity chefs' without ever undergoing any formal culinary training, but Sohla truly is the real deal. She attended the The Culinary Institute of America in California which boasts a long list of other notable alumni in the food industry.
2. She Studied Economics
Before Sohla decided she wanted to attend culinary school and become a professional chef, she was on a very different path. She attended The University of California, Irvine where she studied economics. It is unclear whether or not she actually completed her degree.
3. She Isn't Afraid To Speak Her Mind
If you've just recently started getting familiar with Zohla, you may not be aware of what happened at Bon Appetit. Although her departure was rather abrupt, it was a long time coming. After an imagine that show Bon Appetit's editor-in-chief, Adam Rapoport, in brownface began floating around the internet, Sohla immediately called for him to resign from his position. Shen then spoke out about how the publication had been underpaying her and other people of color. Shortly after, she chose to leave and start her own venture.
4. She's A California Native
Sohla was born and raised in the Los Angeles area to Bengali parents. Although she has lived in the United States for her entire life, the Bengali culture has always played an important role in her life. Sohla got her first taste of the restaurant business from her parents who owned a local Baskin Robbins.
5. She's Happily Married
Sohla is married to fellow chef, Ham El-Waylly. The two met while they were both students at The Culinary Institute of America. In addition to being husband and wife, the two are also business partners and have done many projects together including opening a diner in Brooklyn in called Hail Mary.
6. She Likes To Travel
As a person who loves to cook and eat, it makes sense that Sohla would also be a person who loves to travel. Not only is traveling a great way to see new things, but it's also a great way to be exposed to different dishes and styles of cooking. Sohla has gotten the chance to visit lots of cool places including Greece.
7. She's A Dog Mom
Sohla and Ham haven't technically started a family of their own yet, but they're still parents none the less. They have two adorable dogs and although Sohla's Instagram account is mostly dedicated to food, the dogs have made quite a few appearances. Unfortunately though, they don't have their own accounts.
8. Her Restaurant Lasted For Less Than A Year
Opening a restaurant is one of the hardest business ventures to find success in and Sohla and her husband learned this the hard way. Their Brooklyn diner, Hail Mary, closed after just eleven months of business. Both Sohla and Ham believed that a part of the reason why the restaurant wasn't successful was because white customers were expecting 'ethnic' food.
9. There Are Three Dishes That Define Her Life
As a chef, Sohla enjoys making and eating all sorts of different kids of foods, but there are three specific dishes that have played a big role in her life and will always have a special place in her heart. Those dishes are chicken korma made with her mom's recipe, halibut crudo with white citrus foam, and fried chicken with chile oil and spice dust. In a YouTube video, she prepared each dish and told the backstory on why they are so meaningful to her.
10. She's Working On A Cook Book
Some people may think that leaving Bon Appetit was a risky decision for Sohla, but it might just turn out to be one of the best decisions she's ever made. Not only is she thriving with her new YouTube series, but she is also working on a cookbook that is sure to be a big hit with her fans.