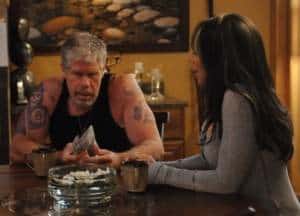 What's sticking with me most this season on Sons of Anarchy, is how much there's this overall 'beginning of the end' feeling. Not to mention this season there's been one hell of a slow build, but this week we're given some real movement from a few of the big plots. The deals are getting more dangerous, the club member's lives are threatened by outside forces as well as from within their own ranks, and one of the show's longest-running mysteries has been solved. Finally, after hinting at it pretty overtly for the entire run of the show, Clay admits out loud that he set up the murder of Jax's father, John Teller. It's hinted at in the letters and confirmed later on when Clay talks to both Gemma and Unser at different points in the episode. The letters have found themselves in the possession of Jax's fiancée, Tara. Gemma and Clay decide the letters must be destroyed so that Tara, and Piney who also knows the damning content of those letters, have nothing on them.
To have Clay and Gemma dealing with this problem together showed the more believable dynamic between the two than something like Clay attacking his wife in front of other club members. Gemma is never better than when she's take-charge and protective over the ones she loves, and it's evident that this includes Tara enough to at least keep her out of immediate harm. When she insisted that nothing happen to Tara or Piney, there was this moment in Clay's reply that made you wonder if he'd keep that promise to his wife. It's hard to argue that someone who over the years has set up the death of his best friend, ordered a hit on another club member's old lady, and murdered various others along the way would stop at Jax's old lady–not if it means protecting what he's turned SAMCRO into. It's obvious that once he realized what the Sons could really do and how much money they could earn doing it that it would take a lot for Clay Morrow to ever back down or let anyone live to threaten his way of doing things for very long.
So now that the letters are supposedly taken care of, but Gemma and Clay both know separately only copies were destroyed–Gemma told Clay the real deal were what's in that ziplock bag–the clock is running on Piney's life for stepping up and challenging Clay's authority the way that he did. The scene with the two engaged in a battle over what the club is supposed to mean and how John Teller knew they were making a mistake by even getting into gun-running years ago displayed so much of why Piney is probably not long for this world. He still represents the old guard, the old way of doing things that Clay has gone so far beyond. Not to mention the fact that Piney could definitely have though of a better way to handle using the letters as leverage rather than just showing his cards to Clay up-front. If it means cash to Clay so that he'll have a nice living once his hands finally go, then he's going to go for it. However, at least the show remembered that the Sons are up against the Charming Heights development project that's been on the fringes of the other plot-lines since after the premiere. Instead of taking care of club business for Otto who demands blood for his wife, Luanne's, demise in the form of her old competitor, Georgi Caruso (returning guest star Tom Arnold)…Clay decides to use Georgi for an investment opportunity as a means to sabotage Charming Heights for good–something that the Sons have been a little too distracted to focus on for most of the season. Later on, Bobby meets with Otto and lies to him, telling him Georgi was taken care of anyway, yeah that's not going to end well ultimately.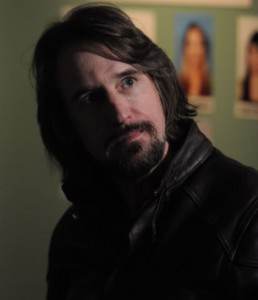 It's clear to see exactly where Clay's priorities are this year now more than ever–power and money. It was the idea of an abundant quick cash flow that made the drug deal so irresistible to Clay in the first place. But even before the tension of the final moments of the episode with the missing brick of cocaine, there have been warnings all over this season about the ways in which the deal with the cartel can go horribly wrong. If it isn't a group of punk kids stealing their guns, then it's having to find ways for the Sons, most of whom are on parole after their prison stint, to get the guns and drugs back and forth from various points. Piney knows that this is the type of thing that causes too much heat for SAMCRO to be forced to deal with and he's right. That heat comes in the form of who has got to be the most serious threat to Clay and the club yet they haven't even formally met him, Linc Potter.
For the past few episodes, Linc has headed out to stir things up in his own way more and more–SAMCRO member Juice now being his main pawn if not Sheriff Roosevelt as well. Linc is careful with his manipulations of the group from afar all while letting them think it's just that pesky new sheriff that's causing all the trouble. As we've seen in the episode, Potter has zero intention of keeping his word to prevent harm from coming Roosevelt way should it come to that. And Juice will be lucky to make it out alive as he wound up accidentally being the cause of that missing cocaine. Hard to tell what's worse for him at this point: the truth of his racial background coming out, stealing from the cartel, or being a rat. I'm going to go ahead and say the latter two are much worse than the fact that he happens to be of some African-American descent.
Theo Rossi is giving a solid performance as he's getting the opportunity to take Juice and turn him from being one of the one-liner spouting club members into a character with heart stuck between the guilt of club loyalty and the harsh realities of what SAMCRO has become. That's the nice thing about an ensemble drama that's been on the air for a few years, at some point, if the writing allows it, almost every character and their respective actors get the chance to do some stand-out work. In the past we've seen this sort of development given to Chibs, Opie, and now Juice joins the ranks of having his very own storyline within the show. Let's just hope he gets out of that room alive so he can get out from under Potter's vicarious thumb before he winds up in a ditch or worse by the end of the season.