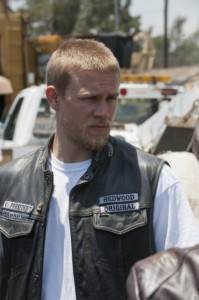 There was no reprieve tonight for the boys of SAMCRO as repercussions from the slaughter at Opie and Lyla's wedding hit the Sons from both sides of the law. And in the middle of yet another impending gang war, the family drama is at its most strained with growing tension from all the lies that are about to be unraveled. If the sight of Gemma Teller being legitimately panicked, which doesn't happen often, is any sign of what's to come for the Teller-Morrow clan. Ultimately I believe the moral of this episode was, as it so often is in crime-tinged TV shows and movies, don't ever anger the Russians.
The great thing about this episode was it didn't shy away from any of the decisions that were made in the premiere. Jax still has every intention of leaving SAMCRO when he's got enough of a nest egg built up to do so, and Clay is throwing himself full force into the role of a figure to truly be tangled with in their underworld of guns and drugs. Yes that's right, they've now made a deal to become cocaine mules with the cartel they're doing weapons business with. Had this sort of thing gone down before their jail stint, I'm pretty sure that there would be slightly less anxiety about it. The Sons never wanted to get into the drug business, but if all those bundles of cash had been put out on the table fourteen months earlier, I'm betting it wouldn't have been such a hard sell. However Clay is really going to have to fight to get his crew with him on this deal and I like that while he's becoming more of a prominent figure to other gangs in the area–this is also going to force him to pull rank more in his own club.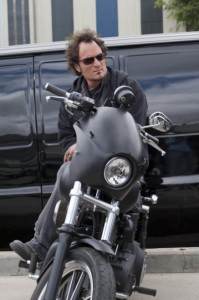 Especially as it seems that the time away has put even Clay's most loyal lieutenants, like Tig, into serious hesitation about voting the deal in. But I have to sit here and wonder how Clay sold the idea of gunning down the Russians in the first place during the premiere. They must have just gotten themselves into such retribution frenzy after Jax's prison attack that they didn't stop and think that by making this big of a move they can't afford to have the same reluctance about certain areas of business as they have in the past. What's done is done and the Sons are in a completely different level now which I think by episode's end there was a silent agreement amongst most of the members that they're going to have to keep the deal with the cartel. Hey, having that alliance likely saved Jax and Opie's lives when the Russians came to take back '˜their'guns.
It would have been really easy to keep Jax's intent of leaving the club some big secret to be pulled out closer to the end of the season, but having him use this desire as part of an agreement with Clay to support the deal with the cartel was a great situation to put them into. As soon as that happened it was clear that Gemma will find out soon. Basically picture that the secret letters John Teller's Irish old lady, Maureen, gave him before he left are the fuse and the idea that Jax is leaving SAMCRO is the spark. And it will lead to such a massive explosion between Jax, Gemma, Clay, and Tara that there won't be some sort of reconciliation as there have been in past years due to misunderstandings or disagreements between them–this is the sort of thing not even these characters will come back from.
Look at how Jax has twice now told other characters that Gemma is '˜just an old lady'and nothing more. It's clear he knows that the real danger isn't necessarily from Clay himself but from the influence of Gemma. Especially as Tara is putting herself in a very bad place to be by investigating the circumstances of John's death on her own–if you don't think Gemma will lash out at the mother of her grand-babies for the good of Clay and the club then you really underestimate what she's truly capable of. She's like the leather-clad Lady Macbeth of the club–she doesn't seem to be bothered by the blood on her hands and anyone who would break up her family needs to be wary of what she'll do to keep things the way they are.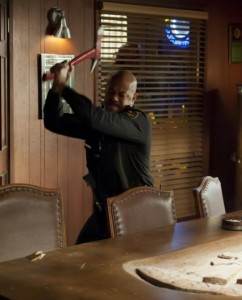 Outside of the club drama, the major opposition is definitely coming from the law this season. Any thought that the new sheriff in town would sit around and wait for the Sons to act again was smashed, literally, as Eli Roosevelt came in with the fire department and tore the clubhouse apart. Watching their home-base destroyed before their eyes was more than just some new law enforcement officer showing off how big he is by daring to cross the threshold of the club's most sacred place with no warning. It was a little bit too obvious of a visual metaphor to see the wall of fame destroyed as well as their '˜chapel'room, but it was effective in conveying that the club as it was is now over. Bobby had it spot-on when he poured some of his beer out onto the floor at the end of the episode in honor of something that's passed while the crew uneasily stood in the wreckage of the clubhouse knowing that this was just the beginning of more bad days to come. Even Tara's engagement announcement wasn't really enough to clear the tension in the air as she just as easily could have chosen to not say anything about it–she's starting to separate from seeing these people as her family with the knowledge that she and Jax now have their own family together and in their minds won't be around here much longer.
Casting Rockmond Dunbar to play Roosevelt was a fantastic move with his gruff voice and no-nonsense demeanor a perfect match against Perlman's arrogance and constantly simmering rage. There were some great moments from Ray McKinnon's Linc Potter too, and frankly I find myself wanting to see twice as much of that character as they've shown so far. McKinnon is making some really interesting subtle performance choices that aren't making his quirky Fed's traits, (hey look, he drinks from small cartons of chocolate milk), too showy.
The first two episodes of this show have me firmly believing that this is really going to be Ron Perlman's year. What he's being required to do with Clay this year is really giving Perlman the chance to become more of a focal point performance-wise than he has been in the past. He's always been good on this show but having to portray Clay watching both of his families fall apart because of his choices for making sure they're all well-supported is giving Perlman scenes with the kinds of emotions that have only been hinted at in the past. Clay Morrow is a man of great contradiction as he has a very palpable sense of regret for his past actions but it's clear that he wouldn't have done anything differently given another chance. He is a man of great pride as well–just look at how he smiles when other people have to come to him to get what they want. Clay loves that the Sons as a whole are becoming less middleman more power player in the community. Even if his hands give out sooner rather than later, I just don't see him walking away from this life or letting Jax do the same despite his promise.
This episode also continued Sons of Anarchy's fantastic run of guest stars with the appearances of both Danny Trejo and Benito Martinez as members of the cartel working with the Sons. Anything is better with Trejo that's just fact. And seeing Martinez in this context is miles away from his former gig on The Shield as Capt David Aceveda. Hopefully we'll be seeing both or either of these fine actors again soon in the weeks to come. The season's only just started but the mess the boys have gotten themselves into is just going to grow more complex. Jax wants to leave SAMCRO sure, but the funny thing is if things keep going at this rate with Clay running things all on his own without club input–there isn't going to be much of SAMCRO left to leave soon.