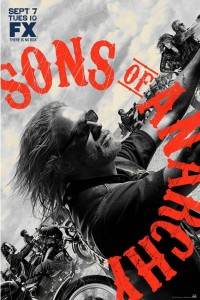 The third season of FX's highest rated show, Sons of Anarchy, will be coming to DVD and Blu-ray on August 30.
Starring Charlie Hunnam, Ron Perlman and 2011 Golden Globe® Award-winner Katey Sagal, Sons of Anarchy focuses on a motorcycle club who will stop at nothing to protect their small town against drug dealers, law enforcement officers and corporate developers, while also continuing to deal illegal arms.
In season 3 of the show, Gemma was framed for murder, while Jax's infant son was kidnapped. Abel's trail led SAMCRO to Ireland where many secrets were revealed.
The season 3 DVD and Blu-ray sets will include all 13 episodes of the previous season, along with the following special features:
Season 3 to 4 Story-Bridge (scenes shot exclusively for the Blu-ray and DVD that will bridge the storylines from season 3 to 4)
Extended Episodes
Gag Reel
Deleted Scenes
Writer's Roundtable
Commentaries with Cast and Creators
Fox Movie Channel at Season 3 Premiere
Amazon is already taking price guarantee pre-orders for the Sons of Anarchy box sets. You can order the DVD here
and the Blu-ray set here
.
clarissa @ tvovermind.com
twitter.com/clarissa373
twitter.com/tvovermind