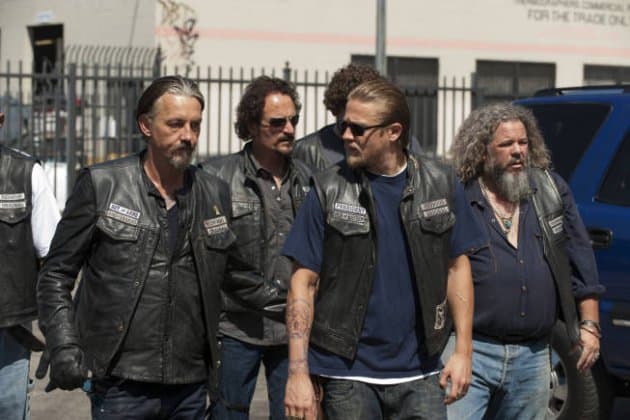 It's been well said before, and it's worth saying again. Sons of Anarchy explored radical politics within the context of Shakespeare's Hamlet. While the Bard focused on Hamlet's responsibility to set to rights the divine order gone to rot in Denmark, Sons of Anarchy focused on Jax's responsibility to set to rights the old order of his father's club. Of course, Shakespeare's divine order was concerned with the divine right of kings and the murder of Hamlet's father. Sons of Anarchy considered the anarchist ideology of 1960s counterculture.
It is fair to say that Hamlet's need for vengeance is a universal human theme. Shakespeare wrote within the context of his time, skillfully bringing the ideals of social order into conflict with the essential nature of human emotions. In a similar way, Sons of Anarchy is written within the context of anarchist ideals, skillfully weaving the threads of anarchistic thought into conflict with contemporary American social norms. Hamlet and Jax share the dramatic human conflicts which audiences have identified with since drama and theater first began.
Another literary strength which has often been mentioned about Sons of Anarchy is its "Hero's Journey" narrative. Joseph Campbell, the American scholar, described it as the kind of adventure which tells the tale of someone who achieves something great on behalf of a group of people. The hero typically experiences several stages during the adventure. He faces pressures, fears the danger and challenges inherent in change, tries to refuse his role, is mentored and gains courage, leaves his comfortable situation to enter a space with unfamiliar rules, makes new allies and enemies, approaches new challenges, faces his greatest fear or death, celebrates the finding of new life or treasure, attempts to bring the treasure home, is purified with a last sacrifice, and finally transforms the world using the treasure in some way. Sons of Anarchy used elements of the "Hero's Journey" as strong, story-telling devices.
With so many strong links to classic drama and themes, Sons of Anarchy's pithy characters offered instant interest within strong dramatic entertainment. They grappled with themes of racism, vigilantism, and government corruption in a fictional California town. They rode black, customized Harleys, wore great leather, had common day jobs, sold weapons and drugs, managed legitimate escort and porn businesses, raised families and made money. What better premises for captivating television than these? The popularity of California, and its reputation for rebellious and glamorous lifestyles has been the stuff of curiosity, coveting, and charisma for generations.
The show and its actors were nominated for and won numerous awards during the series' seven-season run from 2008 to 2014. It was FX's highest rated series, with the premieres for seasons four and five ranking as the two highest-rated in the cable network's history. It's not surprising that the spin-off Mayans MC is anticipated for a Fall 2017 premiere.
Sons of Anarchy was a wild ride based on the dramatic themes common to the human condition. It was full of the pathos and ethos which have fueled human conflict forever. It also pushed the envelope in terms of violent, profane and sexual content, which has been a focus of FX programming in recent years. The FX theme "There is No Box" was fully embraced in Sons of Anarchy. The commercial and critical success of the series set a high bar for series which followed. Original shows and feature films have been the public's expectation for FX, and the network has responded with ever more challenging content. Simply line up American Crime Story, American Horror Story, Legion, Anger Management, Atlanta, Fargo, The Americans, It's Always Sunny in Philadelphia and Archer in one sentence, and it is clear what FX values, and will continue to present.