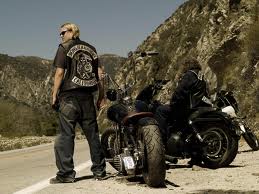 I will admit, I came to the Sons of Anarchy party a little late. It is another amazing FX show that pulls no punches (while it punches people). There is a grittiness to this show that you just don't find on regular cable too often. From week to week, you just wonder what thing is going to traumatize you this week, but we mean that in the best way possible. Just like every other good show, though, it seems  Sons of Anarchy is gearing up for their ending. But how will Sons of Anarchy end? Well, the cast have some ideas.
SOA has already been such a violent show with such changing dynamics, we are foaming at the mouth to see how much farther they can push it before the show ends. Considering we are in the third act of this four part story, might be smart to start setting ourselves up for when Sons of Anarchy ends after next season. But how? What do we need to expect?
According to this interview over at E Online,  lots of people are going to start dying. That is how a third act usually goes in an epic tragedy. Set up the bonds, and then sever them before the end. The cast is giving very little, but it seems they are hinting at a blood soaked ending that most of TV will never forget. Like anyone would've forgotten about this show.
Sons of Anarchy airs at 10 p.m on FX. Make sure to tune in.