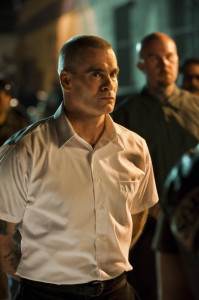 The season premiere of Sons of Anarchy is less than a week away, which seems like the perfect time to whet your appetites a little, and start getting ready for the new season.
The second season will start out with Jax and the club dealing with the fallout from Donna's death last season as well as Jax coming to terms with Clay and what they did. We'll also get to see Jax respond to a new white separatist group trying to move in on their territory and force SAMCRO out of Charming.
The tension will also continue to build between Jax and his step-father Clay, a tension that is obvious in the promo clip below. Finally, Opie is back and more committed to the brotherhood than ever.
Check out the short promo clip (which tells you nothing, but hopefully will get you a little excited about next week's premiere). Below that is a preview video of new season. And finally, below that are the 2.01 promo pictures.
Sons of Anarchy premieres on September 8 on the FX channel at 10pm.
[youtube width="560″ height="340″]http://www.youtube.com/watch?v=TfQz0m1eXBk[/youtube]
Sons of Anarchy 2.01 Promotional Photos
[imagebrowser id=82 template=flipped]