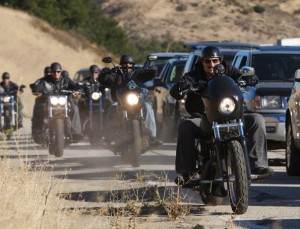 In the first hour of its two-part finale, Sons of Anarchy geared up to close another chapter of the story of SAMCRO, as 'To Be', gave us a fair amount of plot set-up, action, and further deceit. Clay was out of commission the entire hour, but still breathing as those who were once the closest to him planned his demise. Jax became the de facto leader of SAMCRO which required preparing for the upcoming meeting with the Irish Kings and Galindo cartel while trying to keep the club focused following Clay's attack. He also had to deal with (most of) the truth coming out about Clay Morrow's involvement in his father's death as he finally got the chance to read the infamous letters.
Everybody's Going Rogue as the Lies Just Keep Coming
First it was Opie, who last week completely ignored club policy in order to exact revenge on Clay for murdering his father, Piney. This week it was Tig who decided to go on a one-man revenge mission out of guilt following Clay's attack as he sought out Laroy on his home turf. Jax lied and said that it was a Niners assault on Clay in order to avoid future in-club drama, but the last thing the Sons need would be another gang getting mixed up in their current business. Tig succeeded tried to run down Laroy but got the girl he was with instead as this led to the only real action scene of the episode. Tig raced away from the scene of the crime with a cadre of fellow club members providing cover as they weaved through a traffic jam as Laroy and an associate gave chase. Another lie and more blood to show for it, but at least Opie made it through the episode thanks to Jax's quick thinking and loyalty to his friend.
Way More than Just an Old Lady
With Clay out of the picture for the moment, Gemma seized her chance to show Jax the letters, just as long as he didn't get to read the pages that involved her or Unser of course, once she managed to get their location out of Tara. She met with her son and declared that Clay Morrow murdered John Teller and that it was time for him to pay for it. Katey Sagal was downright chilling at times during Gemma's big scene with Jax as she coldly set about arranging Clay's fate just as easily as Clay made the phone call to confirm the hit on Tara–they truly are two halves of a whole. It's like history had a chance to repeat itself as Gemma attempted to manipulate Jax (just like she once did with young Clay Morrow all those years ago) with half-truths in order for him to get rid of Clay as well as take his rightful seat at the SAMCRO table as club president. When that woman knows what she wants, she knows exactly how to go about getting it. But Gemma couldn't really predict that someone else would step up and use her own skills of manipulation to get Jax to listen to her instead.
Lady Doctor Learned from the Best
For years it's been hinted at that every season, Tara gets to be just a little more like Gemma in the way she deals with club business. Now it would seem that the Gemma-in-training has graduated to full on '˜do not mess with Tara Knowles'status as she too has her claws dug into Jax. But Tara's goal is to get him to leave the club, and the scheming ways of everyone around it, far behind. In order to get this desired outcome, Tara who used to have such ethical issues with ever using her medical training for evil, is now the one who showed up for the meeting on Clay's fate with a prepared syringe of blood thinner at the ready for Jax to use. The way Gemma looked on in a moment of both shock and respect perfectly summarized that she's not out of the woods herself since Tara knows the full truth of those letters and could let it spill to Jax if anything gets in the way of getting her entire family to leave Charming. Not to mention it's always pretty satisfying to see that on a show with very few women on it that they consistently have some of the more complex and strong female characters one could find anywhere on television. Due in large part to the talent of the writing staff as well as both Katey Sagal and Maggie Siff who both absolutely nailed it with their performances in this episode.
What's going to be interesting to see is which of the women in his life Jax ultimately winds listening to. As well as how the big meet goes considering how relations between the various factions have hardly been more fragile. Plus, there's the impending threat of the Feds bearing down on the club as the Sons remain mostly unaware of just how serious their problem is thanks to the actions of both Otto and Juice. Right now, I can see a few ways this season is going to end but I must say I still don't think that Clay Morrow is a definite goner. Sure, the odds are stacked up against him currently, but he's nothing if not a fighter until the end. I think that he might surprise everyone by making it out of this season alive but alone. One thing's certain, from everything that's happened this season the show's creators are certainly setting things up for some big changes for season five. Having the stakes so high keeps watching the show a thrilling endeavor right up until those final moments whatever those might mean for the future of the club and for the Teller-Morrow clan.