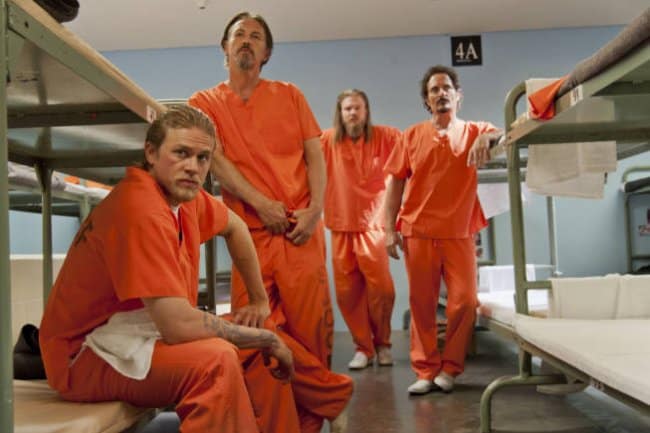 Danger is in the air everywhere you turn on Sons of Anarchy, from Charming to County, where Tig, Chibs, Jax, and Opie are heading straight into a murderous Damien Pope's trap.  With all of that danger, it wouldn't be surprising to hear that someone is going to die soon—but it might surprise you to know that someone is going to die next Tuesday, and that we now know who the potential deceased will be.  EW's Lynette Rice   broke the spoiler and the list of potential candidates, but we have our own opinion on who might be meeting the reaper.  By the time Sons of Anarchy 5.04 "Stolen Huffy" airs on October 2nd, one of these six will be dead:
Unser – He's investigating the break-ins and I gotta say, all subtle indications indicate these break-ins are being committed by the Nomads.  If Unser solves the case, he may find himself in need of silencing.  Chance of death: 6 out of 10.
Tig – Why do I think this is too obvious?  Somehow I don't believe Damien Pope is done torturing Tig, and he needs him alive in order to do that.  After burning Tig's daughter alive, Pope may have targeted Chibs and Jax to be killed before Tig to compound his sorrow. Chance of death:  2 out of 10.
Clay – Get out of town.  So not a candidate for death.  Clay has too much story juice left to die unexpectedly.  Killing Clay would be a stupid story mistake at this point, and this show just doesn't make those kinds of mistakes.  Chance of death: 0 out of 10.
Juice – I love Juice, and have spoken with Theo Rossi and find him to be a great guy, so I say this with all love:  Juice is not significant enough at this point in the story to get killed.  He's gone through hell and back, and very much starting from a clean slate.  The time to kill him effectively has passed, he's too peripheral at this point to waste a death on.  Chance of death: 1 out of 10.
Opie – Again, I just don't buy this as a possibility because Opie has so much more to do in the story.  He's in the midst of his character's darkest journey, and his inner Son has emerged to pledge his protection to his fellow SOA brothers.  On the other hand, Opie's death would be a huge catalyst for transforming Jax.  You could say that Opie, Jax, Tig, and Chibs have entered the 'Underworld' phase of the story, a sort of archetypal plot point where the heroes enter an existential or literal dark world and emerge changed and prepared to face the enemies that at one point seemed unstoppable. The death of Opie would certainly fill Jax with rage.  For that reason alone I give this unlikely Chance of Death 5 out of 10, because it WOULD be a huge twist.
Tara – Okay. Here we go.  Let's face it, none of us want to see it, but killing Tara now would be extraordinarily effective, particularly since she just got married to Jax this week.  It would certainly evoke the Shakespearean level of tragedy Sons of Anarchy is so known for, and frankly previews for "Laying Pipe" suggest a conflict between Tara and Gemma full of threats of death of one or the other.  Maybe too obvious, but like Opie since it would come with such great foreshadowing and setup, and would no doubt be a game changer,  I have to give Tara a 6 out 10.
So there you have it.  Unser is our choice for the Sons of Anarchy death-pool.  I hate to say it but Unser has really become a more and more peripheral character since he was booted from the Charming PD. Dayton Callie is wonderful to watch on Sons of Anarchy, but I have a hard time thinking of him as much of a player as the season goes on.  I think who kills him is going to be the big shocker, but we'll all have to tune in to Sons of Anarchy "Laying Pipe" Tuesday, September 25th at 10PM on FX to find out.
[polldaddy poll=6549604]