The so-called '˜edgy'dramas of the FX brand thrive week-to-week on cliffhanger endings. It's how they get people hooked on their shows and keep them coming back anxiously to see what happens next. Tonight's Sons of Anarchy offered one for the ages as a main character very possibly met the Reaper. I don't mean someone like Piney either–think way bigger.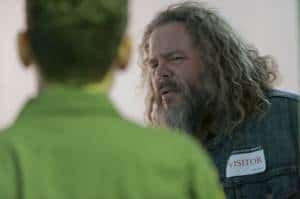 While this was the big episode-ending shocker, '˜Burned and Purged Away'still had much to offer as tensions merely seemed as though they were settling down from the action of the past few weeks. On the contrary, not only are the business dealings of the Sons hanging in the balance, but their personal relationships have almost all reached universal lows. One thing that's great about this show is they tend to fulfill their promises. There was no backing down about Otto turning his back on his former club, and he had good reason to. Once Otto sat down with Bobby and had him read the list of offenses he had perpetrated in order to satisfy SAMCRO, well it became very easy to see how Otto's decision was the right one. After he had given them so much it was time that as Otto himself put it, that Bobby for one 'start his own list.'
Much of the episode focused on how, right now anyway, the very idea of club politics doesn't figure into the very real problems the Sons are facing. This was especially evident in the fantastic closing scenes featuring more gut-wrenching despair from Ryan Hurst's portrayal of former '˜Son til the end', Opie. From his somber graveside moment at his late wife's tombstone to his blistering rage at Jax in front of the crematorium, we realized in one character's arc how the club may truly be beyond repair. The moment he threw his father's patch onto the fire along with his body, it was evident that Opie wasn't about to let Piney's death be just club business; even if it meant turning his gun on Jax in the process. There was a legitimate sense of not knowing what was going to happen next as Opie and Jax thrillingly raced each other back to the clubhouse with only one single idea–that of Clay being Piney's killer–in both of their minds.
There was a bit of a nice fake-out at the end where Clay sat at the head of the reaper table all set to defend his position and his life when the inevitable hammer would fall down upon him. All we hear is the sound of a motorcycle engine idling then going silent outside of the clubhouse. Clay grabs his gun, and for the tiniest moment we're lead to believe that's the cliff-hanger the episode will end on. Then Opie bursts into the room and, despite Jax's best attempt to stop him, by the end of the confrontation Clay took a series of bullets to the chest. Is King SAMCRO really dead? There's no way to be sure based on that ending alone, but I wouldn't put it past this show to pull the trigger, so to speak, on Jax being forced to take over and save what he can of this club. For all his posturing it's apparent that this has always been Jax's true destiny to lead this club out of its own dark age.
Before his possible curtain call, Clay set about trying to make a deal with Tara for the letters that everyone has got to be sick of hearing about by now. After he not so subtly threatened the future well-being of her and of Jax, Clay worked to make Tara think that Gemma was really the one who wasn't safe to be around. It was a smart move on his part as Gemma really has been the one harassing Tara all season in secret trying to find the letters and destroy them. When he left her room, there was a great moment between himself and Gemma. They both looked at each other's marred faces and Gemma still claimed to love her husband despite everything that's happened. I doubt anyone was surprised by this interaction as these two are experts at dysfunctional marital bliss.
It was classic Clay to promise something to Tara he couldn't deliver on as the cartel still wants to fix their problem with the lady doctor. Tara won't be out of the woods unless the cartel can somehow be dealt with by law or by bullet. It really makes Wendy's sudden reappearance make sense as when Tara may likely meet her fate, the issue of Abel's custody could well be a story for next season. It's also a plus to get see Drea De Mateo on here again without being a drugged-up junkie mess as Wendy can pose a threat to Jax's personal life while his life with the club is smashed into pieces.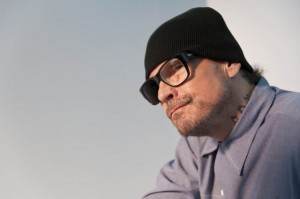 Everything's moving toward the show's most intense season finale yet (it's a two-part even) as the Sons struggle to stay afloat in their deals with the Irish and the Galindo cartel. But they're doing a perfectly good job at tearing each other apart without the help of either of these groups. Not to mention, thanks to Juice and Otto, the law is ready to come down hard and fast on SAMCRO and it's going to be interesting to see who gets caught in the crossfire of that. Clay could be the first major casualty of many, but only time will tell what the final body count will be as the series prepares to wrap up a truly great season filled with the kinds of stakes and consequences that elevate a good drama to something really special.