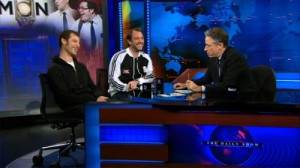 Update: South Park creators say show isn't ending
South Park's midseason finale left a lot of people — including myself — wondering if Matt Stone and Trey Parker were calling it quits. The show's creators, who on Sunday became Tony Award winners for their new musical The Book of Mormon, seemed to be expressing their disillusionment with the show. Through the characters of Stan and his parents, they seemed to express that they wanted to give up making South Park. But, like all great works of fiction, it can be viewed many ways, and that's just one. Other viewers seem to think that Stone and Parker are just kidding around, and that they don't plan to end the show anytime soon — just revitalize it. Or, as another point of view has it, to keep it exactly the way it is.
But in the wake of all the news surrounding them (a Tony Award's no small thing, either), it seems the duo might speak out about what they plan to do tonight (6/15) on Comedy Central's The Daily Show with Jon Stewart. In their second appearance on the show this year (they also were the guests in early March), Stone and Parker will undoubtedly discuss their Tony win… But they might also be discussing "You're Getting Old," that much-talked-about episode.
We'll keep you covered if they actually do spill any beans. After all, if they're going to announce South Park's return or demise, then where else but Comedy Central's own show?