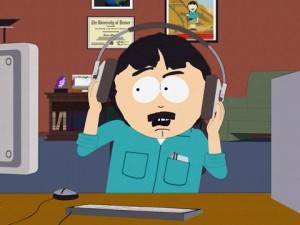 Okay, so maybe I overreacted. But you can't begrudge me, can you?
Last week, South Park aired its surprisingly dark midseason finale, "You're Getting Old." While it was one of the best episodes of the show perhaps ever, it also bore a really dark tone that led many Chicken Little bloggers (such as myself) to proclaim that the sky was falling on South Park and a disinterested Matt Stone and Trey Parker were calling it quits on everyone's favorite cartoon Colorado town.
Not so, say Stone and Parker.
Appearing on June 15's The Daily Show with Jon Stewart, Stone and Parker dismissed theories that the episode was an indicator that they want to end the show. "Not really," Parker replied when asked if he and Stone ever got tired of doing the show. "We love South Park, that's still our thing." This was met with great applause from the studio audience.
And what about "You're Getting Old," an episode laden with cynicism? "That's what was so fun," Parker explained, "Because we did it by the seat of our pants. Obviously it had a lot of themes and things we were feeling in it. But we came back and people were like, 'Are you okay? Is the show coming back?,' and we were like, 'Yeah.'
"We had a really good time doing that. It was fun," Parker concluded.
"We don't know what's going to happen [with the show's cliffhanger], but we'll figure it out in August."
So maybe I jumped to conclusions about "You're Getting Old," but I'm happy to admit that since Stone and Parker how vowed to bring us more South Park. That's a weight off our shoulders as we go into the summer break, isn't it?
South Park will return to finish its fifteenth season in October.