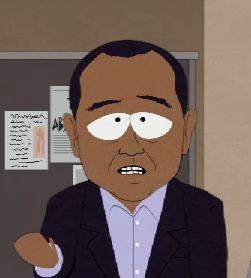 But, did they remember to include David Duchovney? Sex addiction is the target of tonight's episode of South Park as the boys take on the controversial subject in typical South Park fashion. The clips are priceless, but man do I ever miss Isaac Hayes. Although Hayes left the series due to the Scientology ribbings before his death, can you imagine chef delivering the "Sexual Healing" message that comes, instead, via Mr. Garrison?
In "Sexual Healing" some of the boys are determined to be sex addicts and are sent for treatment at the Karne Institute for Sex Addiction. . In the group therapy, they encounter celebs like Tiger Woods, David Letterman, and a few more. Warning: These clips are probably not work-safe. This is South Park after all.
South Park, "Sexual Healing", airs tonight at 10pm EST on Comedy Central.
Sexual Healing (1401)
Sexual Healing – The latest in scientific testing reveals that some of the boys at South Park Elementary have a sex addiction problem.