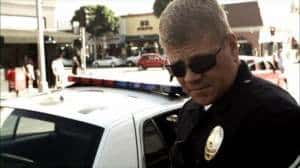 I had the absolute pleasure of speaking with Michael Cudlitz of Southland earlier this month via telephone in a lengthy interview. While I could juice it up and add my own quips and analyze his thoughts, I thought he did an incredible job of that himself.
Below is part one of a two part interview. The second part will be published after the show airs so that you can get some insight into Southland's premiere episode, and hear Michael tackle different topics such as ratings, social media and what other projects he has coming up.
I've seen the premier of Southland and it is absolutely fabulous!
We are so proud of the show, and we're doing what we really a want to do so far as tell the stories we want. TNT is so fantastic about being behind us. Everyone always jokes, 'Oh, are you just selling the show?' Yeah, we're selling the show but it's easy to sell because we're doing what we want to do and we live or die by that. If the show goes off the air tomorrow, we will have felt like we did what we wanted to do. Not like oh, the network wanted us to do this because maybe it would work, but really it didn't. This is a business of excuses of we'll have none of that.
Can you imagine what the show would be like if NBC hadn't passed on it three years ago?
It would have been a very different show. They have so many other issues going on with their network, and with networks in general, to get a hit these days is such the anomaly. Every year there is one or two hit shows on networks, but some years go by where there is just nothing.
Cable has been able to give viewers programs that make you think and make you want to watch television.
I think the last big his was NCIS LA, in terms of numbers and really blowing the competition out of the water.
But I don't know anybody personally who actually watches the show. I'd love to know where these people are.
Hey, let me know if you find out. I'd love to give them a few Southland fliers.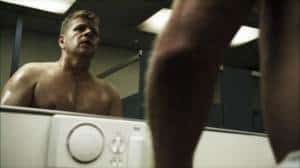 The things that take place on Southland are so gritty and so real, it just amazes me.
I always say this, we're not telling new stories. Everything that you've seen on our show you've probably seen somewhere else, but we're telling it in a way that you've never seen it before.
Like I said, I've seen the premiere and I think it really upped the ante and changed things up. Your character, at the end of Southland season 3 really hit rock bottom and you got an opportunity to redeem yourself in season four by not only coming back as a completely new John Cooper but you also got to come back as a new Michael Cudlitz with your physique. Was that fun for you?
What do you think? It was great! Do you think we sold it, do you think I come off as completely fit. In terms of everything about it. Not just the opening scenes in the gym.
I could tell you looked different just from the commercials, you were the uniform in a completely new way. Did you have to gain weight for the past season or how did that all come about?
I put on about 12 pounds by the end of last season. I did it as a posture thing, for the way John carries himself. I knew he was not able to be as active as he had been, with being on the pills and being lethargic so I knew it would change him not just in terms of the way he carries himself but in weight. So I did, I stopped doing my cardio, slipped off my diet a little bit. You see me in the car, especially episode 9, when I'm sleeping in the car and it's just hideous. I see it and I'm sort of disgusted by it (he laughs).
They came to me about two months before hand and said we know you had an idea this might happen, but we really want you to come back fit. We want you to really take that seriously. Nobody said I had to lose weight, but I just took it as an opportunity as a reason to turn up the work outs in my life and in John's life, visually.
I got to see it on the big screen. It's something they do to get the whole crew energized. It's an extremely collaborative environment. The scenes don't live unless everyone's doing their jobs. Right down to the guy who's grabbing you a bottle of water because you're locked into the car by cameras. Everyone is integral to the process, unlike anything I've ever been on.
What's it like for Cooper to return to the Hollywood beat and what does it do for the story?
If you look at the crimes this year, there are much more gang related and gang specific crimes that Sammy and Ben are dealing with and if you look at the stuff that me and Lucy are dealing with, it's much more personal and domestic crime, which tends to lend itself to a lighter tone. Even though the stuff can be pretty hideous, the people you're dealing with are more ridiculous figures than dangerous figures.
It seems like Lucy's character is a little lighter than John would be, especially during a specific scene in the premiere when she's overly concerned with catching her favorite lunch truck.
There is a little bit of wonderful, dark humor in there. It helps remind everyone why they are there and that they all have a different agenda and a different way of approaching the job. There are a lot of cops out there that think that adult consensual crimes should be eliminated. If you want to kill yourself, go kill yourself. If you want to drugs in the privacy of your own home, go for it. If you want to pick up a prostitute, go get one. These are things that do not necessarily effect anyone else. By extension they do, and because they are illegal they do.
Do you expect Ben and John to come to any sort of understanding this season? I've always thought under different circumstances the characters would make great friends.
There's an interesting dynamic between them. The way I describe it is as a parent and a child. He will always be John's boot. These are my charges that I am responsible for. It's an interesting dynamic when we meet, there is nothing loaded on my end when I say anything, but John has enough experience to know he messed up enough that needs to give Ben times to come to terms with it. I think by the end of the season the audience will be pleased with where that relationship goes.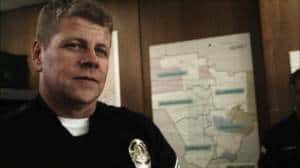 Will you be exploring John's sexuality during the season?
We do a little bit. In episode five, but it's more about who John is than who he is dating.
It seems like mention of it in the past episodes have been intertwined with his drug usage and in doing that it painted his sexuality in a negative light. It would be nice to see the more human side of John and his sexuality outside the realm of his addiction.
Sure. And I think we will have some of that clarified in episodes having nothing to do with drugs and being nothing other than who he is.
~~~~~~~~~~~~~~~~~~~~~~
The fourth season of Southland premieres Tuesday, January 17th at 10:00 on TNT.
I asked Michael for a takeaway, why should people watch Southland? His answer: Because it's one of the best damn things on television. Right after the show they'll be extremely happy and if they haven't watched it before, give it a shot!
I couldn't agree more. Be sure to follow Michael Cudlitz on Twitter @cutlitz.