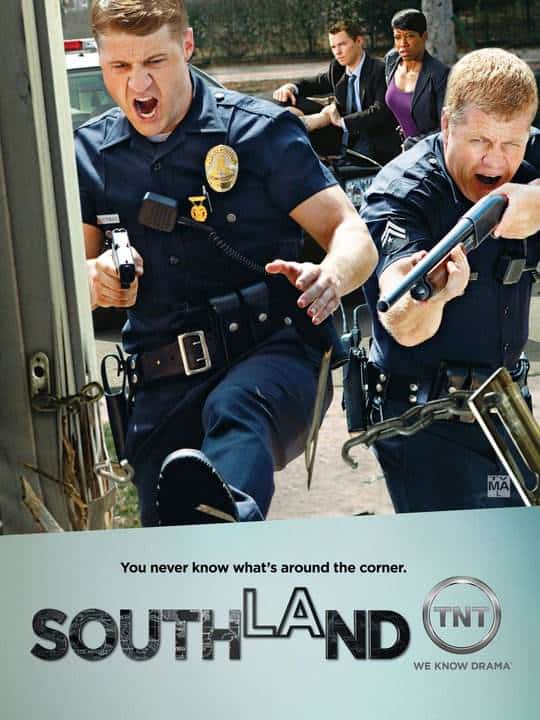 TNT has announced that gritty cop drama
Southland
has been renewed for a fourth season. Though no premiere date has been announced just yet, I'd imagine it'd be around the time that this season premiered, which was in early January. The show was picked up for another 10 episodes after enduring severe budget cuts this season and having ratings near or above their averages from last season.
Southland
is one of TNT's most critically loved shows and has maintained a steady, vocal fanbase after having some pretty tumultuous beginnings. After premiering on NBC Thursday nights as the type of edgy counter-programming to the network's comedy night that produced a phenomenon in
ER
, the show was canceled before the second season ever aired, with NBC saying that the show was just too dark for their line-up. Cut to TNT coming to the rescue, airing the first six NBC episodes along with the episodes that had already been produced for the second season in one big block.Now that
Southland
has more or less established itself, can we please get the show some Emmy attention?!
TNT Renews Acclaimed Drama Series SOUTHLAND

TNT's critically acclaimed drama series SOUTHLAND will return for a fourth season. TNT has ordered 10 new episodes of the gritty, realistic cop drama, which wrapped up its third season March 8. SOUTHLAND stars Michael Cudlitz (Band of Brothers, A River Runs Through It), Shawn Hatosy (Dexter, Public Enemies), Regina King (Ray, Jerry Maguire) and Ben McKenzie (The O.C.). The series has averaged 2.9 million viewers this season, up 6% compared to the second season.

SOUTHLAND comes to TNT from John Wells Productions and Emmy(R)-winning producer John Wells (ER, The West Wing), in association with Warner Bros. Television. Created by Emmy(R) winner Ann Biderman (NYPD Blue, Public Enemies), the series is executive-produced by Emmy(R) winners Christopher Chulack (ER, Third Watch) and Wells. Chulack is also a primary director of the series. Andrew Stearn (Shameless, The West Wing) is co-executive producer.

"SOUTHLAND has been acknowledged by many critics as one of the sharpest, most entertaining and most authentic dramas on television today," said Michael Wright, executive vice president, head of programming for TNT, TBS and Turner Classic Movies (TCM). "John Wells, Chris Chulack and their teams created a brilliant roller coaster ride this season, with countless riveting scenes and unforgettable character arcs. We are extremely proud to have SOUTHLAND on TNT and to bring it back for a fourth season."

TNT's renewal of SOUTHLAND marks the latest chapter for a series that found a new home on television's premier drama network in 2010, after an outpouring of fans and critics campaigned to keep the series alive. SOUTHLAND has redefined the police drama genre with its raw, authentic look at the lives and work of Los Angeles detectives and beat cops. Shot on location in the streets and neighborhoods of Los Angeles, SOUTHLAND captures an environment where similar situations can and often do occur in real life.

In SOUTHLAND, King stars as Detective Lydia Adams, who this year has faced a difficult adjustment period with a new partner and a suspension over leaked crime-scene photos. Officer John Cooper (Cudlitz) is a seasoned cop whose addiction to painkillers is interfering with his performance on the job. His partner, Officer Ben Sherman (McKenzie), came to him as a rookie but is now growing up fast on the force. Detective Sammy Bryant (Hatosy) is part of the LAPD's gang task force who is still reeling from the murder of his partner.

About TNT

TNT, one of cable's top-rated networks, is television's destination for drama. Seen in 100.5 million households, the network is home to such original series as The Closer, starring Emmy(R) winner Kyra Sedgwick; Rizzoli & Isles, starring Angie Harmon and Sasha Alexander; Leverage, starring Timothy Hutton; HawthoRNe, with Jada Pinkett Smith; Memphis Beat, with Jason Lee; Men of a Certain Age, with Ray Romano, Scott Bakula and Andre Braugher; and Southland, from Emmy-winning producer John Wells (ER); as well as the upcoming Falling Skies, starring Noah Wyle, and Franklin & Bash, with Mark-Paul Gosselaar and Breckin Meyer. TNT also presents such powerful dramas as Bones, Supernatural, Las Vegas, Law & Order, CSI: NY, Cold Case and, starting in late 2011, The Mentalist; broadcast premiere movies; compelling primetime specials, such as the Screen Actors Guild Awards(R); and championship sports coverage, including NASCAR, the NBA and the NCAA Division I Men's Basketball Championship. TNT is available in high-definition.

Turner Broadcasting System, Inc., a Time Warner company, creates and programs branded news, entertainment, animation and young adult media environments on television and other platforms for consumers around the world.

Read more:Breaking News – TNT Renews Acclaimed Drama Series "Southland" | TheFutonCritic.comhttp://thefutoncritic.com/news/2011/03/22/tnt-renews-acclaimed-drama-series-southland-518314/20110322tnt01/#ixzz1HMAKBZey