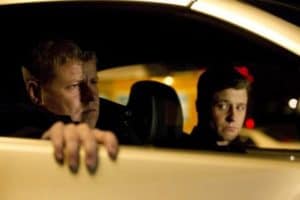 At the end of Southland's third season, major change happened. After dealing with the loss of one of their own not long ago, the LAPD members had their partner assignments jumbled up for the first time in the show's run. Lydia's no stranger to a rotating cast of characters joining her in the other car seat, but Sherman/Cooper have been together since episode one and Sammy's still feeling a little lost without Nate around.
In the season four sneak peek, we get a taste of the new character played by Lucy Liu (Charlie's Angels), whose participation in the TNT drama was announced this past August. Though we don't get a lot of personal details in the brief clip, it's plain as day that Cooper's found a partner that can go toe-to-toe with him immediately and properly bust his chops whenever the moment calls for it. Sherman and Sammy are paired this season, as well, and I think that they can bring a little balance to one another, with Sherman's newfound confidence helping to dissuade whatever remaining fears Sammy may still be having.
But before you head into season four, be sure to check out the character profiles for each of the main four LAPD members to refresh your memory. In the span of less than 10 minutes, you can relive Cooper's addiction to pills, Sammy's marital trouble, Lydia's brush with fame (and infamy), and Sherman's growing pains, plus check out a full season three rewind to see how they all intertwined. Southland may center on pairs of officers and detectives doing their job to protect the streets, but at the end of the day, everybody on that force is connected parts of the living, breathing that is the LAPD.
The fourth season of Southland premieres Tuesday, January 17th at 10:00 on TNT.