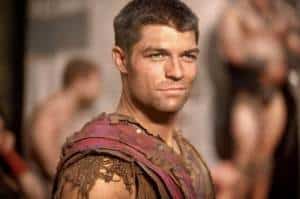 Just in time for the first-ever chronological marathon of Spartacus, Starz has released a first look at the next season. Currently lacking a title (e.g. Blood and Sand, Gods of the Arena, Vengeance), the third season of Spartacus may not be premiering until January of 2013, but from the teaser below, it looks to be gearing up for war as we speak.
Though the video doesn't have any dialogue or reveal any plot points, you get to see a little carnage, hinting that season three will live up to the bloody good time had in the first two seasons (and prequel). At the end of Vengeance, the second season and first without Andy Whitfield, Spartacus and his army managed to defeat Glaber, a victory that may do much for morale but will only bring on hoards of soldiers looking to defeat the rebel army. They now have a target on their back, but with each victory, their mystique grows, as does their numbers. But in order to survive the upcoming onslaught from some of the country's most wealthy, experienced military minds, they're going to need all the help they can get, Spartacus or no Spartacus.
Notably, the army now has Roman leader Julius Caesar and infamous rich man Marcus Crassus to deal with, roles that were cast earlier in the year. Could the army that Spartacus clashes with in the preview be at the behest of either gentleman? Or is there another major figure lurking around the corner, eager for the army to be put down and order to be restored to the country at large?
What do you think about the teaser? Does it make you more excited for the next season of Spartacus? Do you think the addition of Julius Caesar and Marcus Crassus will give Spartacus formidable opponents to battle against?