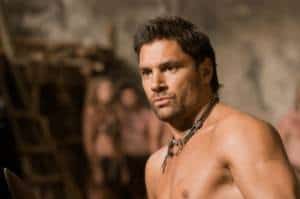 Spartacus fans, I have good news and bad news. (And then a little more good news.)
Good news first. The third season of Spartacus, which was teased for the first time a few days ago, has a title: War of the Damned. With the rebel army growing every day and the teaser hinting at impending war, it's a strong title that indicates that try as they might, the rebels may never escape their status of slavery.
Bad news, though. War of the Damned will be the final season of Spartacus, but it's not due to lack of public interest or declining ratings. No, according to creator Steven S. DeKnight, it's a creative decision to stave off the potential redundancy that the Spartacus journey could have from here on out. In the case of the real Spartacus and the real rebel army, they fought wave upon wave of Romans, heading north, south, west, east, and then north again before the conflict reached a conclusion. Rather than extending the life of the show to a planned five-to-seven seasons, all of that history will be condensed into a final season of 10 episodes
But don't fret just yet. We may be losing Spartacus in this incarnation, but we may not be leaving the time period quite yet. DeKnight mentions that there has been "very preliminary talk" about a follow-up series centered on the same background but not solely on the history of one particular character. Considering the show's success, especially abroad, a quasi-spin-off may not be the worst idea in the world; it might not be the most encouraging news, that it's only in the very early stages in a notably fickle industry, but it's still nice to know that War of the Damned may not be our exit from this time period.
Although I was a little blindsided upon hearing the news about Spartacus, I do understand the decision. It's better for a show's legacy to go out on top of its game and though I believe that Spartacus could overcome the story redundancy and continue to be compelling television, having one final season jam packed with battles, history, and a whole lot of bloodshed sounds like a fitting way to go out.
Spartacus: War of the Damned premieres January 2013 on Starz and will show our titular hero clashing against Julius Caesar and Marcus Crassus. A chronological catch-up marathon begins on Friday, June 8th at 9:00.
How do you feel about this being the final season of Spartacus? Do you think that War of the Damned is a good/fitting title for season 3?