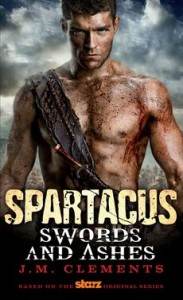 Spartacus was a big hit for Starz and has already been renewed for a third season before its second season has even premiered (read more here). After the first season debuted in January 2010, Starz went on to air a six episode prequel series entitled Spartacus: Gods of the Arena.
Titan Books publishes many novel tie-ins for various television shows, including Supernatural and Stargate. Now the publishing house has released its first Spartacus tie-in novel, titled "Spartacus: Sword & Ashes".
The novel is meant to take place in the world created by the first season (Spartacus: Blood and Sand), although the timeline is before the ending of the first season. The gladiator Spartacus has been crowned the Champion of Capua and still serves the house of Batiatus and Lucretia. In Neapolis, a wealthy man named Pelorus is hosting a party at his estate when his slaves escape and kill him. The slaves have been sentenced to death and Batiatus is scheming to steal Pelorus' estate in order to enrich his own house.
Fans of the shows' mature subject matter should know that violence, adult language and sex are present in the book. The author doesn't attempt to sanitize the world, but surely it's no worse than what you've seen on television. The author also writes conversations in the manner that the characters speak on the show.
From Capua to Neapolis, "Spartacus: Swords & Ashes" is a novel about villainy and heroism with some blood-soaked action thrown in for good measure.
You can order a copy of the novel on Amazon.