Spartacus: Vengeance continues its bloody fight in the aftermath of Spartacus: Blood and Sand, escaping through its fourth episode "Empty Hands," as Spartacus and the remaining rebels flee the Roman forces through the woods, while Glaber hosts a celebration for Varinius that twists loyalties all over Capua.. A less contemplative and more movement-based episode, "Empty Hands" weaves a twisted tale of dividing allegiances and bloody action from worlds apart.
First off, I must apologize for being slow to review in all things this week, most notably Spartacus: Vengeance, but missing other opportunities to talk about some really fantastic Archer, Justified and 30 Rock, even respectable Glee. You see, I spent the better part of the week in the fabled Canadas traveling all about and visiting the set of TNT's Falling Skies, but you'll hear all about that in the months to come until its Summer release. My jet lag and exciting northern adventures aside, I still wanted to devote some time to talking about last night's stunning Spartacus: Vengeance.
I'd actually seen 'Empty Hands'some weeks ago, and repeatedly mentioned it as my favorite of the first four episodes sent out for early release. Looking back, I made that claim with less time to let it all sink in, and less attention paid to some of the more subtle work being done by the other, less-action heavy episodes. What mainly sold me on 'Empty Hands'lay in some of the final moments, where Spartacus and Mira stood ready to face their fate at the hands of Rome in the shadow of Mt. Vesuvius, only to discover their latest pursuers were none other than Agron (Daniel Feuerriegel) and the other rebels joining their friends at their new destination. Seeing that steadfast dedication in the face of certain death, and conveying that relief and renewed hope for the future, all without dialogue lent a certain operatic, dare I say Star Wars-ian scale to the drama.
Given everything that transpires over the course of 'Empty Hands,'reuniting with the other rebels is only a minor victory, but little victories are what keep hope alive in Spartacus'rebellion. It even escapes the boundaries of ordinary TV to see that Spartacus need not always return to status quo; some tie will likely always remain to the House of Batiatus, but Spartacus forges his own destiny elsewhere, always moving toward the next step in his quest for vengeance.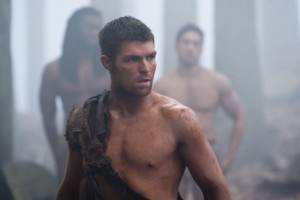 That aside, 'Empty Hands'devotes less time to some of the more philosophical discourse of 'The Greater Good,'instead splitting the narrative between Spartacus, Mira, Naevia, Nasir and the other rebels'continued flight from the mines, and Glaber's begrudging efforts to settle his feud with Varinius (Brett Tucker) over a lavish party at the former House of Batiatus. Both stories are tied only by the thinnest thread of the party being thrown to assuage the slight of Glaber sending his men after Spartacus in the first place, but dividing the episode as such doesn't hurt the narrative the way it might have in lesser hands. Instead, it gives us a chance to examine the dangers faced in either world, be they broad strokes or a sword or the subtlest of manipulation.
On Spartacus'side, things are still looking pretty grim even with the recovery of Naevia (Cynthia Addai-Robinson) as the rebels continue facing pursuit and losing men to Roman hands even after their escape. With Crixus captured and other men falling left and right, one has to wonder who faces the greater cost of Naevia's freedom, Spartacus for agreeing to such a treacherous mission with such small yield, or even Naevia herself, who continually recoils as blood spills everywhere around her. No doubt her time spent away from Crixus in the mines has somewhat shattered Naevia's already fragile state, so it'll be interesting to see how the character deals with all this death on her account as she joins the ranks of the other rebels. We continually see the plight of said rebels in how quickly they turn to abandoning those holding them back, and Spartacus remains one of the few trying to hold onto both selflessness and leadership in their unending struggle. At least now, the Roman danger has been temporarily abated, but I imagine some sort of rescue for Crixus will be in order before we see any real advancement in Spartacus'cause.
Oddly enough , the party for Varinius feels like the more interesting story of the two, as loyalties and treachery fly about the evening just as much as blood and steel in the woods. So much so, in fact, that it's near impossible to keep track of who exactly plays who, but it's that melodramatic complexity that adds such richness to the episode in its ambiguity. There's been a bit of viewer frustration with the Roman side of things as I understand it, introducing new and seemingly extraneous characters into the mix, but 'Empty Hands'gives us a clearer picture of what purpose everyone has to serve.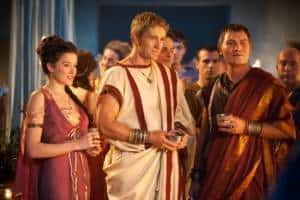 For instance, while Illithyia remains a cunning and powerful threat, she still needs to align certain forces in order to have her way, be they her father dissolving her marriage or proving to Varinius that young Seppia (Hanna Mangan-Lawrence) lacks maturity. Her husband seems to manipulate Seppia's brother Seppius in much the same manner, preying on the boy's affections for his own sister in order to sway allegiance away from Varinius. And even then, Lucretia seemingly comes to Illithyia's aid by bedding her father toward dissolving Ilithyia and Glaber's marriage, but likely maintaining some silently vengeful agenda of her very own. It's complex, and more than a bit to take in against a sea of orgiastic revelry and merciless torture, but it's that almost symphonic layering of deception and rich characterization that elevates Spartacus: Vengeance far beyond any typical melodrama.
All of this being said, I do have a confession. When I touted 'Empty Hands'as one of the better Spartacus: Vengeance episodes I'd seen, I had yet to watch episodes 5 and 6, 'Libertus'and 'Chosen Path.'So, I don't want to be the guy mindlessly spouting praise or insisting that every episode is better than the last, but trust me when I say that next week's 'Libertus'is the episode bound to have people talking, and please a number of fans of the series. Since I don't watch the series live on Starz itself, I couldn't tell you what if anything previews have showcased, but anyone who's been enjoying the season thus far will have their jaws completely on the floor by the end.
I'll understand if people didn't get out of 'Empty Hands 'what I did, but I still found it a very strong hour in its sorrowful complexity.
And Another Thing…
Great work from Katrina Law, who continues carving Mira's identity as a fighter, both strengthening her character and separating her from Spartacus'wife Sura.
I didn't find time to mention Ashur this week, who's become an increasing threat this season as his intelligence goes ignored once more and he winds up killing Glaber's lieutenant himself rather than risk his own life in battle.
We know Lucretia's 'prophecies'to be false, but I'm not sure why such failure gets heaped on Glaber. After all, Spartacus WAS at the mines like she said, and his men still managed to bring back important members of the rebellion.
I'm glad to see that Nasir lived through the episode, though perhaps not as much as Agron!
'Place tip against flesh, feel it part to your desire.'Now that's how you make Roman innuendo.
I'm always fascinated by the dynamic between Lucretia and Crixus, and I can't help but wondering should Lucy Lawless keep on for season 3, might she become some kind of aid to the rebellion?
What did YOU think?