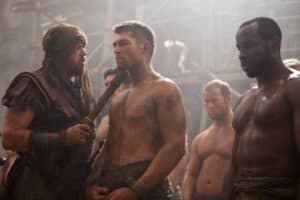 The news that the third season of Spartacus is to be its last could be looked at in one of two ways. On one hand, it's a shame to lose such an adventurous, intelligent, bold show in the prime of its life, especially following the damn near operatic second season finale. Not many, if any, shows on television balance as the number of different elements that Spartacus does and it was often thrilling to see them keep so many plates spinning in the air. But on the other hand, a final season on a show like this could go even bigger and brighter than ever before.
And that's just what looks to be happening, if the recently released production video for the season is any indication. Spartacus is a very distinct show in terms of visual elements, but for War of the Damned, it'll be trying to do slightly less effects in favor of more in-camera stuff. But there's still cameras from the point of view of fighter jets and a whole lot of style to the upcoming season of Spartacus, including a custom built city for the rebels and the Romans to do battle in.
When last we left the rebel army, they had scored a major victory, having fended off the Romans and finished off Glaber with one final swing of the sword. With the target on their backs even larger than before and men of great wealth joining the cause for the other side, the rebels will have to survive even tougher battles than they have before, if they want to earn their freedom.
With promises of being bigger, more epic, and more action-packed, the final season of Spartacus will be going out with a bang that is sure to be felt by all the gods, Jupiter himself included.
Spartacus: War of the Damned premieres January 2013 on Starz. You can check out an additional teaser for the season here and information about the show's final Comic-Con panel here.