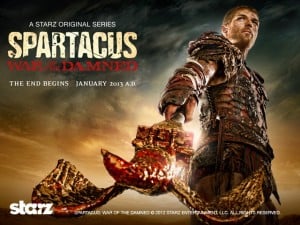 Visually, the Spartacus franchise has been one of the most distinctive things on television. It's big, it's bold, and it's just extreme enough to be impressive while keeping both feet planted firmly in reality. But going into the final season of the show, you had a feeling that things were going to be taken to another level, every creative trick thrown at the audience in one last gasp of vengeance and loyalty. Spartacus has always been an inventive show and having a final 10 episodes means that there's no time to waste anymore – if you want to go even bigger, now's the time to do it.
By the looks of the set tour below, it looks like the show might manage to make War of the Damned the most awe-inspiring season yet. Staged in a warehouse in New Zealand, War of the Damned takes the action out of Capua, following the downfall of Glaber, Ilithyia, and Lucretia in the finale of Vengeance; in its place is a new city south of Italy, where the likes of Caesar and Crassus will have to track the rebel army for one final showdown. Spartacus has led the army to victories over some of Rome's most elite figures, amassing quite a following in the process, but he's yet to have run up against opposition like he will in War of the Damned. He's a tremendous warrior and managed to turn a rag-tag group of slaves into a rather vicious fighting unit – can that be enough to do damage to an opponent with infinitely more resources?
Spartacus: War of the Damned premieres January 2013 on Starz. You can catch up on all the latest news from the rebel army here and here, as well as the TVOvermind Spartacus discussion forum here.
Are you ready for Spartacus: War of the Damned? What are you expecting from the final season, if anything? How do you think the set looks?