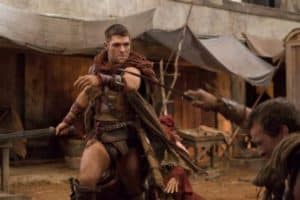 The time for battle is upon us.
Starz has released the first official teaser trailer for the final season of Spartacus and the stakes have never been higher, the rebel army having done significant damage to the Roman elite and consequently calling all men of prestige to hunt them down. Spartacus and his band of former slaves may have taken down the increasingly arrogant Glaber and the weak-willed Batiatus, but they've drawn attention to themselves with each victory and now have men like Julius Caesar and Marcus Crassus nipping at their heels.
The teaser trailer itself, which features the first new footage of the army's opponents, has all the hallmarks of the Spartacus franchise, only much, much bigger. The absolutely tremendous-looking battle scenes, the rivers of blood that will be soaking the sand beneath their feet, the stirring battle cries from a once cautiously confident Spartacus – they're all there and should make for a fitting conclusion to one of the most daring shows on television. The rebels may be outnumbered and lacking in the type of resources that someone like Crassus can provide, but they've pulled victory from the jaws of extinction before and I expect a valiant fight to the end, regardless of outcome.
Spartacus: War of the Damned premieres January 2013 on Starz. You can get a full rundown of the new additions to the cast here, including the men that'll be teaming up to bring down Spartacus once and for all. Additionally, you can check out another teaser and a making-of video (featuring a tour of the massive set) here and here.
What do you think about the first extended footage of Spartacus: War of the Damned? Are you ready to say goodbye to the series or does the trailer look too awesome to think about the end? How do you think all the new cast members will do this season?