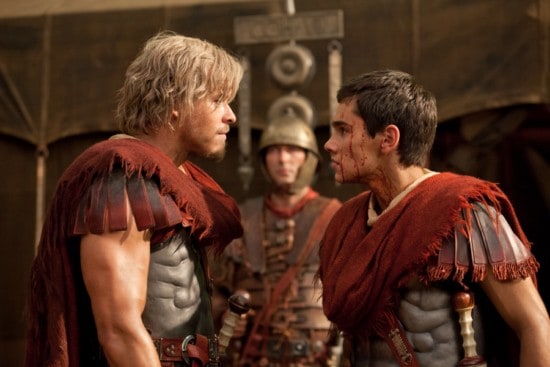 Tiberius defied the orders of Crassus and attacked the rebels on the most recent episode of Spartacus: War of the Damned. The resulting conflict may have produced losses on both sides, but the reinforcements the pirates called upon sent the Roman army scrambling in the other direction. The first battle of the war for freedom and control of the area had gone in favor of the rebels and when Crassus finds out, he's ready to unleash hell on the soldiers that chose to flee rather than fight.
On the next episode of Spartacus: War of the Damned, Crassus is less angered by the premature attack by his son and the marred result of the first battle than the soldiers not staying and fighting until the bitter end. If they had stood their ground and lost, he could at least hold his head high; the Romans would've been looked at as smart for hitting the rebels when they least expected it, even if they limped off the battlefield with a notable loss of men. But giving up a chance to take out a key rebel figure and looking cowardly in the process doesn't sit well with Crassus, who plans to make each soldier that ran pay for what he did.
Meanwhile, the rebels are continuing to implode, with Naevia's slaying of Attius causing Gannicus and Crixus to get into an altercation that ends in a roundhouse kick to the head. Crixus has already expressed sympathy to the brutality that Naevia suffered at Roman hands, but it may be time for him to attempt to get her to focus her anger on the Roman army. Rather than injuring innocent Romans or killing one of their important allies, Naevia could channel the pain and anguish of her memories onto the battlefield and prove to be a key asset to the rebels. If she chooses not to and wields her fury like a dagger at anyone that comes near, she'll end up being a liability that they'll be better off without.
Spartacus: War of the Damned airs Fridays at 9:00 on Starz.
Was Naevia just in her actions last week? Will the tension between Gannicus and Crixus linger? What will the retreat do to Crassus' strategy?