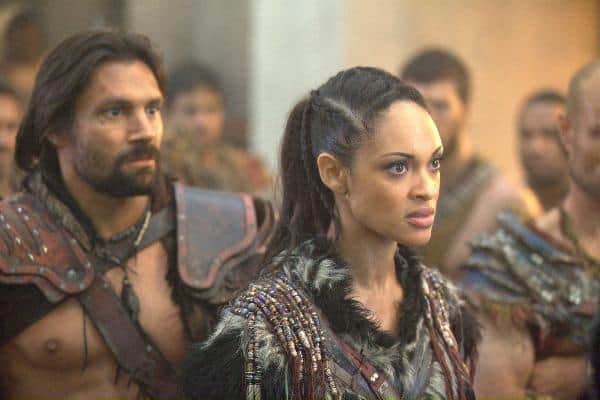 Last season on Spartacus, Naevia reclaimed the power that Ashur had taken from her by defeating him in a duel and subsequently castrating him. It was an extremely cathartic moment for the former slave and one that would bound to stick with her and change her, though it was unclear if it would make her into a fierce warrior or if she would be shell-shocked from the recent trauma she had been through. With the battle intensifying and the Romans closing in on the rebels, which Naevia ultimately emerged for Spartacus: War of the Damned?
On tonight's premiere of Spartacus: War of the Damned, it becomes clear that the Naevia that emerged from the battle with Ashur has stuck around and then some. While out on her own, though near the rebel camp, she comes across a group of Romans on horseback; they demand to know if she's with anyone and why she's so close to the rebel encampment. Naevia draws one of the soldiers close enough to where she could drive a weapon through his stomach, roaring as she finishes him off.
While it might be awesome to see Naevia transform into a fearsome fighter who can handle herself against the Romans, you have to wonder why she had to kill one of the soldiers while surrounded by a fleet of his comrades. Granted, she would rather die in battle than go back to a life of servitude, particularly of servitude toward men that could hurt her like Ashur did, but the rebels had to be close enough to where they would hear the commotion and come to her aide, otherwise she would be captured or put to death for her actions. What exactly is Naevia's plan?
Spartacus: War of the Damned premieres tonight at 9:00 on Starz. Be sure to click on the arrows above to get a look at photos from the episode. You can check out additional sneak peeks here and here.
Do you like that Naevia has become as vicious and powerful as she has? How close do you think the Romans will get to the rebel camp? Will the incident with Naevia make Crixus that much more hungry for victory?