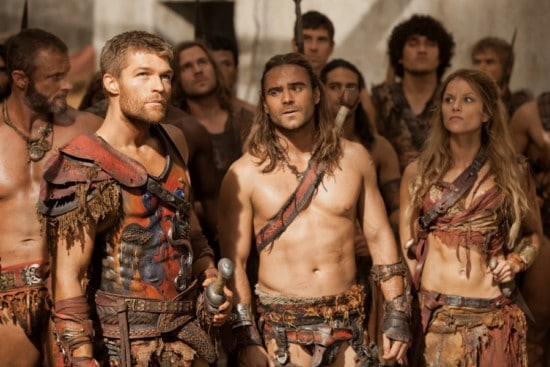 Spartacus and the rebel army have been amassing victories and increasing their ranks ever since Glaber was defeated at Vesuvius. What was once a small but ferocious band of former slaves has turned into an undeniable force that the Roman elite have to address before it becomes too much to handle. To bring down the movement that began in Blood and Sand with the slaughter of the House of Batiatus, wealthy nobleman Marcus Crassus has been tapped to lead the Roman army; he has extra motivation to take out Spartacus, in that the only thing missing from his extensive resumee is a military victory. For that to come against the Bringer of Rain would make the triumph even sweeter.
Listed below are the times, titles, and descriptions for each episode in the Spartacus: War of the Damned catch up marathon. Additionally, sneak peeks and previews for each episode are attached to each episode title.
9:00 p.m. – "Enemies of Rome" (Additional sneak peeks here and here)
In the Season 3 premiere, Spartacus sees his army grow and deal a serious blow to Rome's fighting legions, which leads Roman officials to seek empire-saving funding from the aristocratic and ambitious Marcus Crassus.
10:00 p.m. – "Wolves at the Gate"
Spartacus launches a bold assault to procure food and shelter for his followers, while Crassus raises a formidable army and welcomes a surprise visitor.
11:00 p.m. – "Men of Honor"
Spartacus contemplates entering into a deal with a band of marauders that would ensure adequate supplies of food for his people. Meanwhile, the son of Crassus becomes emboldened and makes a fateful decision.
Spartacus: War of the Damned airs Fridays at 9:00 on Starz. New episodes of the show return next week.
What have you thought about Spartacus: War of the Damned thus far? How long will the rebels be able to hold on to Sinuessa en Valle? Will Crassus prove a formidable leader of the Roman army?