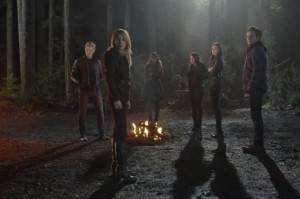 The Secret Circle | Which major book character is finally coming to Chance Harbor? Are you sitting down for this? John Blackwell. Best known for Dr. Quinn, Medicine Woman and Higher Ground (Everyone saw this show, right?), Joe Lando has been cast as the mysterious and powerful witch who finally makes his entrance in episode 15 "Return," supposedly so he can protect the Circle. Yeah, that's what I thought, too.
And what's up with Faye's new boy-toy Lee? Nothing good, I'm afraid. It seems this whole time he's been hiding the secret of his ex-girlfriend Eva (Alexia Fast) being in a drug-induced coma. And would you look at that, she's ready to wake up in "Return". My that episode is beginning to look really busy…
CSI: NY | Will Mac finally be able to move on from his wife Claire? The season premiere "Indelible" not only gave us our first glimpse at the happily married couple pre-9/11, but Mac was also able to at last say goodbye to the wife he lost so long ago. So now may be the perfect time to find someone new. Just in case, Megan Dodds has been cast as Christine, a possible love interest and someone from Mac's past.
How I Met Your Mother | Is love in the air for Barney? In episode 16, Barney will go out on a double date with new girl Quinn (Becky Newton), who manages to push his buttons in all the right ways. Creator Craig Thomas teases, she'll be "a bit of a puppet-master and Barney sort of falls under her thralls. The inventor of the playbook is being played." Oh, it's on!
Parks and Recreation | Which Will & Grace star is heading to Pawnee? Why that would be Sean Hayes! His former co-star Megan Mullally already recurs on Parks, but soon the actor will guest star as a TV journalist who grabs a big political interview with Leslie (Amy Poehler). This should go well.
And just who will be stopping by to play Leslie's opponent in the race for City Council? Vulture reports that Paul Rudd shot his scenes late last year, though neither NBC nor the show will comment, and that the episode should be airing very soon. Hm…
The Vampire Diaries | Who's this mysterious new lady Sage? To find out we'll have to wait until episode 16, simply titled "1911," where Cassidy Freeman will first be seen via flashbacks as the "sexy and fearless" Sage. She'll have the exciting task of enticing both the Salvatore brothers and the Original family. Though in the books, Sage was actually a he. Awkward.
Plus, will Damon soon be sexing it up with a hot female vampire? Perhaps. But is it Katherine? While Nina Dobrev refused to comment on whether she would be in the scene as well, judging by the wig Somerhalder recently tweeted himself wearing we're beginning to wonder if does take place in the past.
Oh, and when will Stefan find out about Damon and Elena's kiss? Try in this week's episode "The Ties that Bind". Any guesses as to how he'll take it?
Once Upon a Time | Is someone else going to learn about the curse? Kind of. In episode 17 "Hat Trick," an intriguing new character named Jefferson, a former criminal in the fairy-tale world, shows up and attempts to convince Emma that the curse is indeed true. Though we're not even sure how he knows about the curse in the first place.
Hart of Dixie | Could there be yet another love interest in store for Zoe? Well, maybe third time's the charm because Justin Hartley will soon be lingering around Bluebell as Jesse, a "charming Southerner and war hero". Sounds to me like Wade better step up his game.
The Good Wife | Could Will be getting a new woman in his life? Two, actually. And they're coming by to find him the woman of his life. Will's two sisters Sara (Nadia Dajani) and Audra (Merritt Wever) will be showing up on his doorstep determined to fix their brother's love life. Of course, they may not be entirely welcome…
Fringe | What's coming up for Fringe? Only the worst. Michael Massee, who's actually made a living playing villains, will play a man pushed to the limits in Episode 15. Executive producer JH. Wyman explained the casting thus: "His character promises to be one of the most memorable, guest bad guys we've ever had." Well, I'm sold.