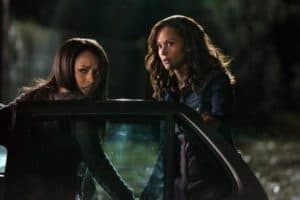 The Vampire Diaries | Whose long-lost mother will soon be helping to open up a few coffins? On the Jan. 19 episode "The Ties that Bind," Bonnie and Elena will go on a road trip in search of Bonnie's mother, Abby (guest star Persia White). I think it's fair to say these two will have a lot to talk about.
Plus, will Klaus' real love interest please stand up? Ever since Julie Plec said someone would be catching Klaus' eye very soon, the hunt has been on for the identity of this lucky lady. Thanks to this week's "Our Town" and some new pictures for the Feb. 9 episode "Dangerous Liaisons," it seems the lady in question might be our very own Caroline.
NCIS: LA | Are fan-favorites Kensi and Deeks ready to be married? Only in the fictional sense. In an upcoming episode the two partners will take their 'thing' to the next level by going undercover as husband and wife: 'Everything you wish for when you want characters to get together, we put in this episode.'You won't want to miss this!
The Secret Circle | Who will be joining Cassie for a trip down memory lane? Hint: It's not Adam. Now that Jake has returned to Chance Harbor, in the Jan. 19th episode "Witness" he'll help her get to the bottom of what happened 16 years ago: "They learn more about each other and they learn more about where they come from and who Cassie is." I can't wait!
Ringer | Guess who's back? No, not Gemma, though that would be a good guess, but mischievous twin Siobhan! When we last saw her in the show's midseason finale she'd returned to New York to fix the Charlie problem, but soon Siobhan will be moving on to her other issue: Andrew and twin sister Bridget.
And did Mr. Carpenter really rape Juliet? A few months ago, Ausiello said the rape storyline was one of the most 'hackneyed plots of the TV season,'but he seems to be quickly changing his tune: "I now know where it's going and it's actually pretty inspired (if a wee bit contrived)." Also, a mysterious third party appears to be involved. Color me intrigued.
Gossip Girl | Which dastardly relative is returning? Chuck's Uncle Jack (Desmond Harrington) is set to return for the last third of the season. But don't expect these two to be enemies again: "Their story is more of a fun story than an antagonistic story. It's really twisty and comic."