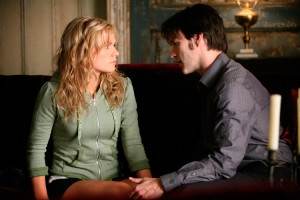 HBO has released the story synopses for the first three episodes of True Blood, along with a high level outline of what to expect from the second season of Alan Ball's vampire series. Beware, True Blood spoilers ahead.
"In the backwoods Louisiana town of Bon Temps, the mystery surrounding the serial killer has finally been solved. But just as things are settling down, deadly new twists threaten Sookie Stackhouse and everyone around her." Begins the True Blood season 2 press release that HBO circulated this morning.
TRUE BLOOD kicks off its 12-episode second season SUNDAY, JUNE 14 (9:00-10:00 p.m. ET/PT), exclusively on HBO, followed by other new episodes on subsequent Sundays at the same time. Mixing romance, suspense, mystery and humor, the show takes place in the not-too-distant future, when vampires have come out of the coffin, thanks to the invention of mass-produced synthetic blood that means they no longer need humans as a nutritional source. The show follows the romance between waitress Sookie Stackhouse (Anna Paquin), who can hear people's thoughts, and her soul mate, 173-year-old vampire Bill Compton (Stephen Moyer). Alan Ball (creator of the Emmy®-winning HBO series 'Six Feet Under') created and executive produces the show, which is based on the best-selling Sookie Stackhouse novels by Charlaine Harris.
Other cast regulars on TRUE BLOOD include: Ryan Kwanten as Sookie's brother Jason; Rutina Wesley as her best friend Tara Thornton; Sam Trammell as Sookie's good-hearted boss Sam Merlotte; Carrie Preston as Sookie's fellow waitress Arlene Fowler; William Sanderson as Sheriff Bud Dearborne; Chris Bauer as Detective Andy Bellefleur; Todd Lowe as Terry Bellefleur; Michelle Forbes as Maryann Forrester; Alexander Skarsgård as Eric, a Nordic vampire; Deborah Ann Woll as Jessica, a new vampire under Bill's supervision; Mehcad Brooks as Eggs 'Benedict'Talley; Michael McMillian as Rev. Steve Newlin; Mariana Kloveno as Lorena; Anna Camp as Sarah Newlin; and Jim Parrack as Hoyt Fortenberry.
June's episodes:
Episode #13: 'Nothing But the Blood'
Debut: SUNDAY, JUNE 14 (9:00-10:00 p.m. ET/PT)
Other HBO playdates: June 14 (11:00 p.m.), 16 (11:30 p.m.), 20 (11:30 p.m.) and July 5 (9:00 p.m.)
HBO2 playdates: June 15 (8:00 p.m.), 18 (10:00 p.m.), 19 (midnight) and 21 (3:15 p.m.)
A shocking murder outside Merlotte's has Bon Temps reeling. Meanwhile, Sookie's (Anna Paquin) relationship with Bill (Stephen Moyer) is tested when she learns about Jessica (Deborah Ann Woll), and of his involvement in her uncle's death. Sam (Sam Trammell) recalls a shape-shifting encounter he had with Maryann (Michelle Forbes) as a 17-year-old. Jason (Ryan Kwanten) gets a sudden windfall that allows him to pay for a leadership retreat with the Fellowship of the Sun. Two adversaries find themselves sharing a mysterious dungeon and, possibly, the same fate.
Written by Alexander Woo; directed by Daniel Minahan.
Episode #14: 'Keep This Party Going'
Debut: SUNDAY, JUNE 21 (9:00-10:00 p.m.)
Other HBO playdates: June 21 (11:00 p.m.), 23 (11:30 p.m.), 27 (11:30 p.m.) and July 5 (10:00 p.m.)
HBO2 playdates: June 22 (8:00 p.m.), 25 (10:00 p.m.), 26 (11:00 p.m.) and 28 (2:00 p.m.)
Sookie is forced to cope with Bill's obligations to Jessica, as well as the romantic inconveniences the teen vampire's presence creates. At the Light of Day leadership conference, Jason makes a favorable impression on its ambitious leaders, Steve (Michael McMillian) and Sarah Newlin (Anna Camp), though not on his jealous roommate Luke (Wes Brown). Maryann casts her spell on Merlotte's patrons, and Sam proves helpless to stop the revelry.
Written by Brian Buckner; directed by Michael Lehmann.
Episode #15: 'Scratches'
Debut: SUNDAY, JUNE 28 (9:00-10:00 p.m.)
Other HBO playdates: June 28 (11:00 p.m.), 30 (11:30 p.m.) and July 1 (10:00 p.m.), 4 (10:15 p.m.) and 5 (11:00 p.m.)
HBO2 playdate: June 29 (8:00 p.m.)
When Sookie is attacked by a mysterious creature, Bill must enlist Eric's (Alexander Skarsgård) help to save her. At the Light of Day retreat, Jason has second thoughts about the sect's anti-vampire agenda, but Sarah and Steve counter his doubts with flattery and promises. After snapping at Tara (Rutina Wesley) and new employee Daphne (Ashley Jones), Sam decides to cut and run. A bored Jessica heads over to Merlotte's, where a smitten Hoyt (Jim Parrack) falls under her spell. At another Maryann-hosted party, Tara finds her attraction to Eggs (Mehcad Brooks) interrupted by a swirling, aphrodisiac fog.
Written by Raelle Tucker; directed by Scott Winant.