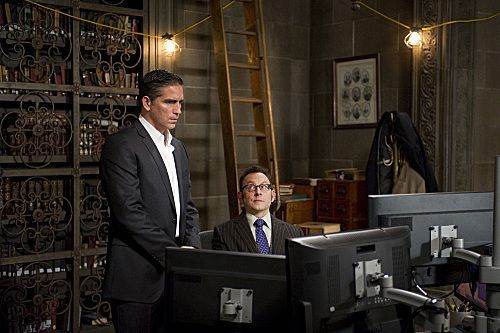 Person of Interest | Is someone going to die soon? EW recently talked to Executive Producer Jonathan Nolan about what's coming up for the last four or five episodes of the hit show's first season, and fans should be a little afraid of what he revealed: "None of these characters are safe. You always have to be willing to [kill off characters]. Nothing is given." Uh, oh.
The Vampire Diaries | Could the newly hinted at 'Klaus and Caroline' actually become a thing? Not so fast. We are talking about a murderous vampire who's also kept his entire family under lock and key. Still, there could be some hope. "We're going to learn more about his past and what would've made him so closed-off," Joseph Morgan says. "If he can learn to trust, then he has a chance at loving again."
Plus, for more on these two, check out stills from the Feb. 9 episode "Dangerous Liaisons," where "Caroline discovers a side of Klaus no one would have suspected."
The Big Bang Theory | Are Leonard and Penny ready to give their relationship another try? This week's 100th episode "The Recombination Hypothesis" gave fans a big surprise when the two finally agreed to go out on another date. And on the Jan. 26 episode "The Beta Test Initiation," we'll see the couple still going strong as they continue to take their renewed dating status for a test-drive. There's just one problem: how fast or slow should they go?
Meanwhile, what's going on with Leonard and Sheldon? In the Feb. 2 episode 'The Friendship Contraction,'there's going to be trouble in roommate paradise. It seems Leonard has had enough of Sheldon's crazy antics, and he's ready to throw in the towel. Are the two friends and roommates really done? A sudden power outage may help put everything into perspective.
Grey's Anatomy | Who might be leaving Seattle Grace Hospital? Well, that all depends on who doesn't pass their medical board exams. Creator Shonda Rhimes teased TVGuide about the episodes leading up to the season finale: "Some people pass the boards; some people fail the boards. Some people's careers survive; some people's careers don't." Sounds like they'd better start studying.
Is Arizona going to become pregnant? Jessica Capshaw recently stopped by Twitter to announce she's pregnant with her third child, so of course everyone's been wondering whether or not it will now be written into the show. Creator Shonda Rhimes had this to say: "I don't think it's gonna have any impact on story at all for us. Arizona's not gonna be pregnant and I think (hope, pray) the schedule will work out so Capshaw won't even miss an episode."
Will things between Teddy and Owen begin to heat up? Only in the dramatic sense. Following the death of her husband Henry, Teddy is going to be looking for someone on which to take out all her anger and grief. Kim Raver explained to TVLine, "It's going to be difficult between her and Owen. But it's also exciting what starts coming out of Teddy's sadness, and it's pointed toward Kevin McKidd's character." Could this perhaps turn into a love triangle of sorts?
The Mentalist | Which Firefly actor will soon be dropping by the show? In the Feb. 16 episode "War of the Roses," 'psychic' consultant Patrick Jane will once again come up against Morena Baccarin's Erica Flynn. At the least, Simon Baker sounded excited about it to EW: "They were both deceptive characters and they enjoyed that in each other. And so to bring her back, there's a bit more friction between the two of them that could potentially open things up for the Jane character."