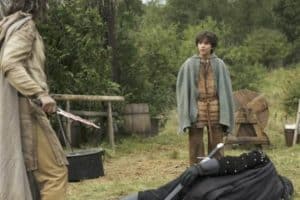 What's next for Once Upon a Time? Is new love in the air on The Vampire Diaries? Who will become the latest takedown on Revenge?
Happy new year! Hope everyone had a relaxing holiday break and you were able to catch up on all the tv you might have missed during the fall. Because now that winter hiatus is over, it's time to get back down to business.
I'm here with a brand new spoiler-filled column from TVOvermind. Each week, I'll tease and spoil you on everything they, the ominous they, don't want you to know about what's coming up on all your favorite shows. So if you're willing to bear that burden, then unshield your eyes and follow me down the rabbit hole!
ONCE UPON A TIME | For weeks before the midseason finale, we were teased that a beloved character would be meeting their untimely end, but I don't think any of us were quite prepared for Sheriff Graham (Jamie Dornan) to die by the hand (literally) of the Evil Queen. So what's next for the citizens of Storybrooke following the loss of one of their own? When we return with the midseason premiere "Desperate Souls" on Jan. 8, the town is in a state of chaos over who should be the new sheriff, and it's not hard to guess that Regina (Lana Parrilla) has her own idea about who it shouldn't be. She'll stop at nothing to make sure Emma (Jennifer Morrison) doesn't win against rival Sidney (Giancarlo Esposito), including telling everyone that Emma gave birth to Henry while in jail.
Meanwhile in fairytale land, the focus will be on the mysterious Rumpelstiltskin (Robert Carlyle) who, as it turns out, has (or had) a son himself. Through flashbacks we learn what happened to his son after Rumpel tried to help him avoid going to war. Could the loss of his son be the reason for his obsession with babies? Also in this episode, look for Emma's deal with Mr. Gold to make a reappearance, and Mary Margaret (Ginnifer Goodwin) and David (Josh Dallas) will find themselves on opposite sides during the campaign for town sheriff.
THE VAMPIRE DIARIES | Readers of L.J. Smith's "Vampire Diaries" novels, on which the popular CW series is based, were in for quite a shock this week when a popular book character made a surprise appearance during the midseason premiere. But Executive Producer Julie Plec tells Zap2it that even though Elena's good friend Meredith Sulez's name and age has been changed for the show, Dr. Meredith Fell (Torrey DeVitto) will still have a number of things in common with her alter ego, like let's say her family history and relationship with Alaric (Matthew Davis). So don't be surprised if Meredith quickly becomes an important part of this season's story arc.
But Alaric isn't the only one getting a new love interest. Julie Plec also recently told TVLine that 'someone will catch Klaus'eye very soon.'Could the someone in question be the show's resident witch, Bonnie (Katerina Graham)? Joseph Morgan and Katerina Graham have been seen getting suspiciously cozy lately, per two candid photos from the set. And Kat even speculated to Zap2it how she believes it could be possible for the two characters to end up an item. I have only one thing to say about this development: Bring on the Blaus!
REVENGE | Emily's plan for revenge has never been easy, but it's only gotten steadily more complicated ever since Tyler (Ashton Holmes) and Amanda (Margarita Levieva) arrived in town. Just don't expect the drama caused by these two thorns in Emily's side to let up anytime soon. Revenge showrunner Mike Kelley told TVLine that following the winter premiere, we're now counting down to the crazy Episode 15, which will at last bring us full circle back to the events of the pilot and the murder on the beach. Everyone, please continue praying it's not Daniel (Joshua Bowman) who we saw lying dead on the sand.
But first, Emily will be getting back to basics in next week's episode, "Infamy," with a good ol' fashioned takedown. Desperate Housewives' Roger Bart will arive on the scene as a journalist intent on discovering the seedy underbelly of the Hampton's elite and a mysterious Emily Thorne (Emily VanCamp). Unfortunately for him, as Emily VanCamp confided to TVLine, he's not on an even playing field. 'I know everything about him, and he doesn't know that, so I get to play with fire.'The poor guy will never see Emily's big red X coming.