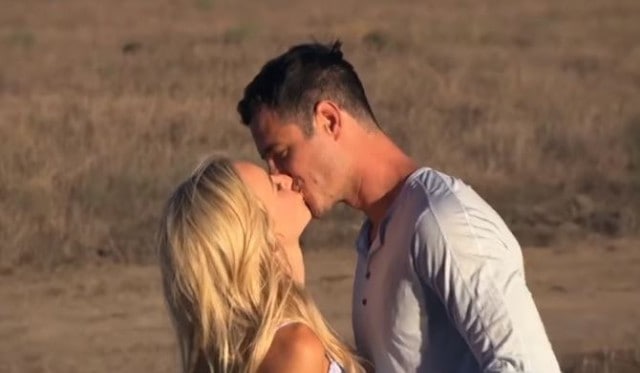 Ben and Lauren B. will be soaring together (both literally and figuratively) during their date together in tonight's episode of The Bachelor. The two of them will spend their date flying through the sky in a plane before they get back down to the ground and are able to grow even closer, and their time together certainly appears to be going a lot better than one of the other dates Ben goes on in tonight's all-new episode.
However, the connection forming between Ben and Lauren B. could be challenged by some "tragic news from home" that Ben learns about in tonight's The Bachelor. How will this "real-life drama" affect him as he tries to discover which bachelorette is the right woman for him? We'll have to wait and see.
The Bachelor airs tonight at 8 p.m. on ABC. Check out a few clips from Ben's dates below, along with a couple of sneak peeks at U.S. Women's Soccer stars Alex Morgan and Kelly O'Hara, who will both appear during tonight's two-hour installment.
Will one of these ladies score with Ben? #TheBachelor is all-new tomorrow. pic.twitter.com/fyOrRozv9A

– The Bachelor (@BachelorABC) January 17, 2016
The stunning departure of Lauren, L.B., who refused Ben's rose, set the Bachelor back on his heels momentarily, but there are 17 women, who are anxious to spend time with him. Lauren B. and Ben soar in a bi-plane to a secluded spot where a hot tub waits, as well as a romantic dinner followed by a private performance by Lucy Angel, one of the Bachelor's favorite music groups. Twelve ladies are involved in an intense soccer competition, coached by Alex Morgan and Kelley O'Hara of the World Cup Champion U.S. Women's National Soccer Team. Jubilee is in for a real treat as she and Ben share a romantic tryst at an exclusive spa. However, real-life events intercede, and Ben gets tragic news from home. Can he overcome both the real-life drama and the women's emotional confrontations with each other to pick the right bachelorettes to continue with him?
[Photo via YouTube]