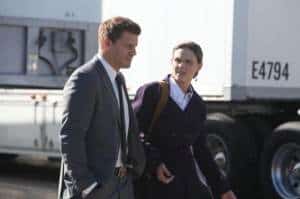 Bones | The show finally returned from its two-month hiatus this week with the exciting birth of Booth and Brennan's baby girl. But don't let the happy news get you too comfy because our spoilery eyes are already set on the the May 14 season finale, 'The Past in the Present'. EP Hart Hanson recently tweeted about the episode, saying the writers are currently in a 'spirited debate' on what should be the last image of this season. Hanson tells EW, "We have options as to how it motors us into season 8. There's a see-saw between hope and confidence and vulnerability and fear that we have to walk."
What could possibly have the writers so at odds? We fear it may have something to do with the return of serial killer Christopher Pellant (Andrew Leeds) in the finale. David Boreanaz reveals to Zap2it, "I do know that it'll be pretty dangerous, and it'll be detrimental to both [Booth and Brennan], and someone may not survive." Emily Deschanel adds, "It changes things for Brennan, Booth and their child in a way that they'll probably never be the same." Why does this news not give me warm fuzzy feelings?
For more on what you can expect from the rest of this season, check out our special Bones spoiler post.
We also have the latest photo preview and sneak peeks for next week's all-new episode "The Bump in the Road".
Castle | If there's one thing in TV that needs to remain constant, it's that Nathan Fillion should always portray a street smart hero opposite Adam Baldwin's dumb lackey. So pardon me if I need a minute to deal with this latest bit of casting news. In the upcoming April 16 episode "Headhunters," Nathan and Adam, who previously worked together on the short-lived series Firefly, will reunite onscreen when Castle ditches Beckett to shadow tough-guy cop, Ethan Slaughter. Baldwin explains the deal to TVGuide, "It's flipped. Nathan's the dumb one this time." And Fillion doesn't disagree, "Yup. Adam's in control, pulling the strings and I'm tagging along in the dark." Help, my world is all askew.
To get an early look at Nathan and Adam together again, you won't want to miss our photo preview for "Headhunters".
If you missed this week's episode "The Limey," we also have your review right here.
And since it's now April, we're also beginning our descent toward the end of the season. For May sweeps, TVLine reveals that someone we haven't seen all year is set to return. Could it be the mysterious 3XK? If so, this may go a long way toward explaining what Jon Huertas meant about a very interesting conclusion to the season for Castle and Beckett. Huertas teases TVLine about the finale, 'I think the audience is going to be surprised about what happens between Castle and Beckett. More surprised than they ever have been.'Dun, dun, dun.
House | In a previous spoiler post we reported that Olivia Wilde is set to return for the important series finale to air on May 21. But thanks to EW, we can now add one more very special name to the guest-star list: Kal Penn. Only Penn's character Dr. Kutner committed suicide in the fifth season episode "Simple Explanation," so a reappearance by his character could presumably reveal a lot about the plot of the final episode of House, written by series creator David Shore. What's your guess on how this dearly departed character will show up?
We also still don't have a title for this rapidly approaching episode, but what we can expect to see is becoming a little bit clearer. TVGuide has the latest from Robert Sean Leonard on what he says will be just another day at the office for House and Wilson, "I think the show is going to end very abruptly and in a very surprising way because, as happens in life, you don't live the ending. You just live your life." Check, no wrap up for the show or characters.