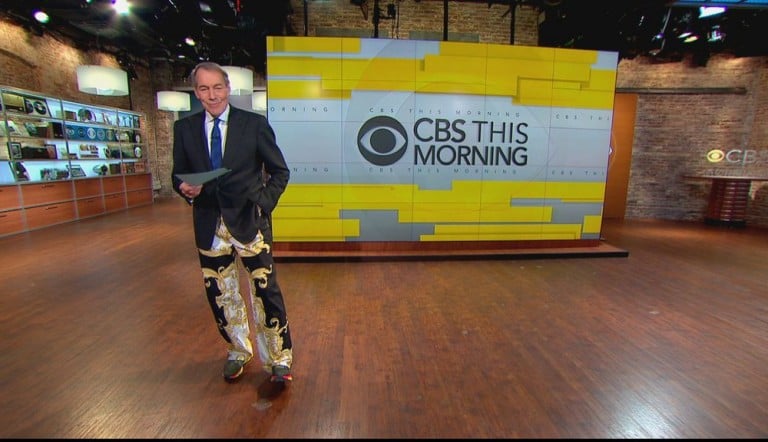 The biggest news leading up to the Super Bowl hasn't even been the game itself.  While the Denver Broncos taking on the Carolina Panthers has a great story line to it, it's in fact clothing that has made headlines recently.  The Denver Broncos and Carolina Panthers arrived in California on Sunday, and one player's pants stole the arrival show. Panthers quarterback Cam Newton donned zebra striped slacks with yellow designs, reportedly an $850 piece of clothing from Versace.  Here's a better look:
Cam Newton's style statement en route to #SB50. https://t.co/NipQubnl48 pic.twitter.com/T9SyCkjU5W

— Dave Enna (@Dave_Enna) January 31, 2016
The outrageous fashion statement was irresistible for social media fans, and non-fans, sparking talk even on CBS This Morning. So much so that world famous "serious" interviewer Charlie Rose shared his comedic side by sporting the same pants that Cam Newton wore.
Gayle King and Norah O'Donnell bet their male co-host Charlie Rose to not only find, but wear the bold Versace pants. Rose did it with a smile and now the internet is on fire about it. Rose appeared on CBS This Morning Tuesday wearing Cam Newton-style pants and we love him for it.