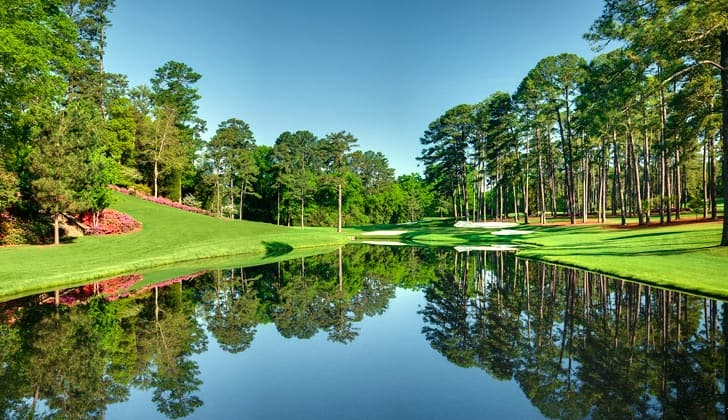 This year's Masters Tournament starts on Thursday, April 7th and should be an exciting one. We have a new "Big Four" in golf as Jordan Spieth, Rory McIlroy, Justin Day, and Rickie Fowler all are fighting to be this generation's superstar. At the moment, it looks like the best-case scenario for golf fans, as they all are playing absolutely phenomenal.
There are multiple ways to get tournament coverage this year, whether it be through a cable provider, website, or legal cable TV alternative. Let's take a look at all your options.
 Sources and Channels Broadcasting the Masters Tournament
There will be quite a few different channels and websites broadcasting the Masters this year. Some are online sites and others are cable channels, but they're all easily accessible.
Masters.com: The official site of the Masters Tournament has a ton of coverage throughout the week. There are highlights posted during rounds, featured videos, and the ability to watch the players hit balls on the range. For the tournament, you can watch the Par-3 Tournament in its entirety and each day you can live stream two featured groups at a time, the Amen Corner, and holes 15 & 16. All can be accessed for free on Masters.com.
CBS: CBS is one of the main broadcasters of the Masters tournament and has several sources to watch. You can watch the players on the range each day on the CBS Sports Network, highlights after the first two rounds late at night on CBS, and replays of the third and fourth rounds on CBS Sports Network. Also, CBS owns the main broadcast rights for the last two rounds and you can watch the entire coverage on CBS's main network.
ESPN: During the first half of the tournament, ESPN will be a critical way to keep up with the Masters. ESPN will broadcast the Par-3 Tournament and first two rounds of the Masters live on its cable channel. In addition, first and second round replays of the coverage can be watched later at night on Thursday and Friday. Once, the tournament hits the weekend it is all CBS.
Methods Alternative to Cable to Watch the Masters
Obviously, you can watch the Par-3 Tournament and every round of the Masters right on your TV if you have a cable subscription. But, if you do not, there are still many ways to watch the action directly as its broadcast on ESPN and CBS. Here are some of these options:
Sling TV: This is the first of the cable alternative options. Sling TV (full overview here) offers more than 20 cable channels live streaming, including ESPN. So, it will get you full access to the first two rounds, the Par-3 Tournament, and the replays after the first two days. You can stream this on your computer, tablet, phone, or on your TV with connected devices like Roku or Chromecast. In fact, this is probably an ideal way to watch at work, because Thursday and Friday are the only days the Masters is on ESPN. It is $20 per month for Sling TV, but you can always utilize their week long free-trial during the Masters.
PlayStation Vue: This service offered by Sony is incredibly similar to Sling TV. It also lets you live stream cable channels and has ESPN in the basic package, so you can watch the Masters here. The difference is PlayStation Vue costs a little more $29.99 per month, but you get more channels (over 50 in total). Another difference is it isn't as compatible with streaming devices, but you still have plenty of options since it works with PlayStation Consoles, iOS devices, Chromecast, and Amazon Fire TV. There's a free trial on Vue as well, so you can always try it out during the Masters.
CBS All Access: If you signed up or did a free-trial on one of the previous services for the first two rounds, CBS All Access can close it out for you on the weekend. It used to be mainly for on-demand content like TV shows, but now can be streamed in over 120 markets throughout the United States. The stream is CBS's main broadcast and can be watched on nearly all major devices. It costs $5.99 per month and once again there is a weeklong free-trial. CBS All Access combined with PlayStation Vue or Sling TV would be a simple way to watch the same coverage of the Masters as if you had cable.
Digital Antenna: Another way to watch all of the coverage on CBS is by using a digital antenna. Antennas have come a long way since the classic rabbit ears and can now pull in channels like CBS, FOX, ABC, and NBC in impressive high-definition. Some say watching on an antenna actually has much better clarity than watching on HD channels with cable. The quality of the antenna depends on the quality of the reception, so you should check TVFool.com to find out the levels of reception for each channel in your area.
Clearly, there are tons of ways to watch the Masters whether you have cable or not. Plus, if you don't have cable you can easily watch the tournament for free. Enjoy watching every shot this year!