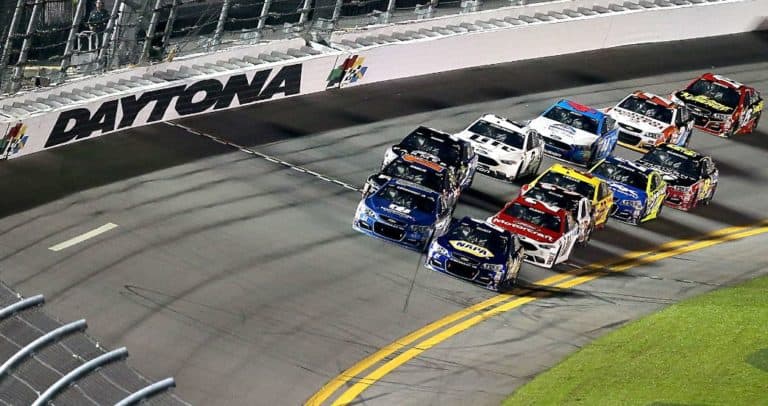 Not only is the Daytona 500 one of the most exciting races of the entire year, but it also marks the kickoff to this year's NASCAR Cup Series. This is the opportunity for a driver to make their first move towards winning the series this year. It's also the day NASCAR fans have been waiting for all winter, so both diehard and casual fans will be tuning in.
The race takes place down in Daytona Beach, Florida on Februrary 29th. Whether you have cable or not, it's really not very hard to stream the Daytona 500. You'll have a few options out there regardless and all are legal and easy to access.
The FOX Sports Go App is the Best Way to Watch with Cable
Most people who have cable will likely be able to watch the Daytona 500 live streaming right from the FOX Sports Go App. You'll need to make sure FOX is included in your cable package, but most people will certainly have access.
You can download the app, then sign in with your cable subscription login, and watch the entire race live. Plus, with certain streaming devices you can always hook it up to a TV if you're someone that doesn't get FOX streaming live. You can also watch on the FOX Sports Go website, which can be access with your cable login.
An Antenna Will Get you FOX Live
An over-the-air antenna lets you watch channels like FOX, CBS, ABC, and NBC live. You can get these channels right on your TV and they come in as perfectly clear high-definition picture. Check out what the reception in your area is before buying, to make sure you can get FOX and the Daytona 500.
The cost to watch TV on the antenna is absolutely nothing. The only cost needed is the first investment in getting your antenna, but there are no fees after that. It can be used to watch plenty of other NASCAR races and tons of other TV and sports programming.
DIRECTV NOW May Live Stream the Daytona 500
AT&T's streaming service, DIRECTV NOW, has a starting price of $35 per month and lets you watch more than 60 popular cable channels live streaming. In certain places, FOX is included in this package for no extra cost. If you're in one of these places, you can use DIRECTV NOW as a way to keep up with all of your favorite TV programming and sporting events, like it was during NBA All-Star Weekend. It's a newer service, which was only launched at the end of 2016, but it has already gained a lot of traction and popularity. Learn more about it here.
Streaming Service Sling TV May Also Let You Watch Live
Sling TV has been around much longer than DIRECTV NOW and serves a similar purpose. It lets you cut the cable cord, but still watch plenty of cable channels. FOX is available to live stream, based on your location, in the Sling Blue starting package. This packages features around 40 cable channels to watch and only costs $25 per month. You can customize your package as well on Sling TV, by signing up for add-on packages that include more channels all focus on a specific category, like Sports or Kids programming.
Another Streaming Service Option is PlayStation Vue
PlayStation Vue, Sony's foray into the streaming service market, features FOX live streaming in certain places throughout the U.S. In the majority of locations, the service starts at $29.99 per month for a little under 50 cable channels to live stream. But, in the areas with FOX it'll cost $39.99 per month for nearly 60 channels. Along with FOX, you can usually get live streams on CBS, ABC, and NBC as well.
Whether you have a cable package or decide to the cut the cord, you'll have no reason to miss the Daytona 500. If you're away from your house, you can easily watch on-the-go, and if you already cut cable, you'll have several streaming services to choose from. Hopefully this makes your life much easier on race day!
Save