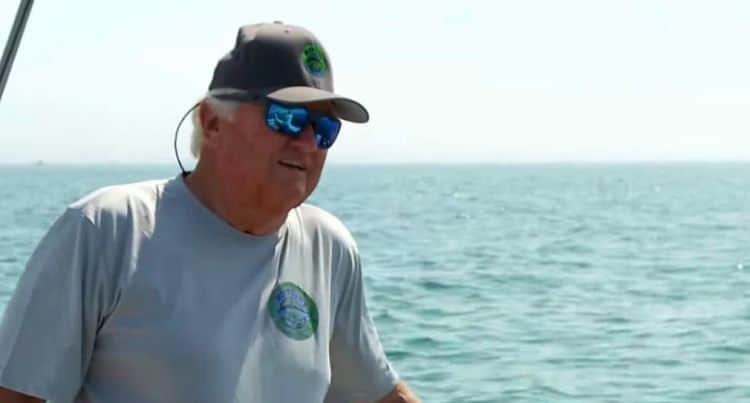 After nearly a decade on the air, Wicked Tuna continues to find ways to attract and entertain viewers. Now in its 10th season, the addition of a new cast member has gotten lots of viewers excited. Spurge Krasowski may be new to the show, but it feels like he should've been there all along. His son, Brad, was a captain on the show from seasons six to eight, and it looks like Spurge is ready to remind the world that the family name holds weight out there on the ocean. Not only is he hard-working, but his fishing skills are top-notch. Fans are already hoping to see more of him in seasons to come. Here are 10 things you didn't know about Spurge Krasowski.
1. Spurge Isn't His First Name
Everyone may know him as Spurge, but that's not actually his name. Spurge was born Marion Krasowski and he was named after his father. Marion senior also went by the nickname Spurge, but it's unclear where the name comes from. Regardless, though, most people would agree that it's an awesome name.
2. He Has More Than 40 Years Of Fishing Experience
Just because Spurge is new to the Wicked Tuna cast doesn't mean that he's new to fishing. He got into the fishing business in the early 70s. The amount of experience he brings to the series is certainly impressive and he's definitely been a great addition to the cast.
3. Wicked Tuna Is His Only TV Experience
Spurge loves to fish, but he never dreamed that it would eventually lead him to become a star in the entertainment industry. From what we can tell, Wicked Tuna is the only TV show Spurge has ever done, and it doesn't appear that he's ever attempted to be on any other shows.
4. He Is Not Really Into Social Media
Now that Spurge has made a name for himself on TV, there are lots of people who would love to see what he's up to on social media. Unfortunately for those folks, they're out of luck. Spurge isn't very active on social media. Facebook is the only platform where he seems to have an account, and he hasn't posted in years. Since Spurge is a little older, it's not too surprising that he isn't concerned with his online presence.
5. He Is From New Jersey
Spurge has spent his entire life living in places that are near the water, so it's probably not much of a surprise that he found his way to it. Spurge was born and raised in New Jersey, although it appears that he may have lived in Massachusetts at some point. From what we can tell, he currently lives in New Jersey, however, his Facebook profile suggests he may live in North Carolina.
6. He Is In His 70s
Once most people reach a certain age, they're looking forward to retiring. However, despite his age, Spurge doesn't appear to have any plans to stop working any time in the near future. There's no information on exactly how old Spurge is, but he is somewhere in his mid to late 70s.
7. He Is A Very Private Person
People usually associate reality TV with a lack of privacy But just because Spurge is part of a show doesn't mean that he plans to share all of his business with the world. Outside of what we see on Wicked Tuna, there isn't much information about Spurge. He seems to enjoy living a low-key life and protecting his privacy.
8. It's Unclear How He Got Into Fishing
Working as a commercial tuna fisherman isn't a common career path, but it was clear the right one for Spurge. Since Spurge hasn't shared much about his life, there isn't any information on when he first started fishing or what inspired him to get into the activity.
9. He Is Married
Not only have things gone well for Splurge on a professional front, but his personal life has been full of good times as well. Spurge is happily married to a woman named Judy, but we weren't able to find out when they tied the knot or if they have any children other than Brad.
10. He Doesn't Come From A Fishing Family
While we don't know how Spurge got into fishing, one thing we do know is that he doesn't come from a family of fishermen. According to his father's obituary, Spurge Sr. was a tool and dye engineer who also trained dogs along with his wife, Alberta. Spurge Sr. was also a semi-professional football player.