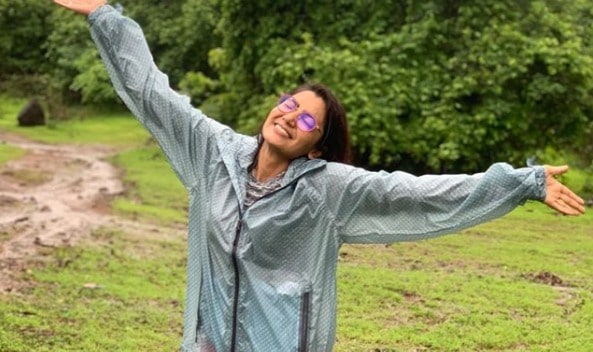 Bollywood has for a long time been the largest movie producer with an annual movie release rate of over a thousand films each year. The Bollywood industry has given rise to various prominent actresses such as Priyanka Chopra. Sriti Jha is one rising talent in the Indian film industry. She has appeared in major soap operas with films such as Kumkum Bhagya, Balika Vadhu and Kudali Bhagya being in her credits. Sriti Jha was born in Darbhanga in Begusarai Bihar India on the 26th of February 1986. She moved with her family to the city of Kolkata where she spent considerable time. After staying in Kolkata for a decade, she moved to Kathmandu Nepal.
Her family eventually relocated to New Delhi where she attended the Laxman Public School. She finished her schooling from the Modern Indian School in the town of Kathmandu. She attended the Sri Venkateshwara College in New Delhi where she attained her Bachelor of Arts in English. Sriti Jha broke out in 2007 when she played Malini Sharma in the Disney India teen drama Dhoom Machaao Dhoom. Her recent role, however, is one which has really gotten the young talented actress noticed. Since 2014 she has been playing the role of Pragya Mehra in Kumkum Bhagya. Her role in the Ekat Kapoor production has earned her the India Telly Awards for Best Actress in a Lead Role.
Here are 10 things you didn't know about Sriti Jha
1. She is a dancer
Sriti Jha is a dancer and has appeared in various dance shows such as Nachie Ve with Saroj Khan
2. She is versatile
Her versatility is what is appealing for the young actress. She has taken on various challenging roles including playing a split-personality patient called Sudha Sharma on the show Jyoti which airs on NDTV Imagine. She has also taken on the role of a domestic violence victim in Di Se Di Dua where she portrayed Jhanvi. She also played a blind girl in the film Rakt Sambadh and portrayed Ganga in the show Balika Vadhu.
3. Awards and nominations
Sriti Jha's collection board is a very full one. For her portrayals of various characters, she has won various awards and nominations. Some of her awards include the Indian Telly Awards for Best Actress in a Lead Role and Best Jodi. She won the Aadh Asbadi Women Achiever Award for Excellence in the TV Industry for her role in Kumkum Bhagya. She has also won the Zee Rishtey Awards in 2016 for the Favourite Bahu Category, Favorite Popular Character, and Favorite Jodi. All of these awards were for her role in the serial Kumkum Bhagya. She won the 9th Boroplus Gold Award for the Face of the Year Category and the Bollystar Nazrana Awards in 2017 for the categories of Favorite Actress and Favourite Couple alongside Shabir Ahluwalia. In 2017 she also won the 11th Gold Awards for the Best Actress in Lead Role, also for her role as Pragya on Kumkum Bhagya.
4. She is an avid reader
Aside from acting and dancing, she enjoys reading widely. Her favorite books are the 'To Kill a Mockingbird', 'The Story of My Life' and 'The Diary of a Young Girl'.
5. Net worth
Sriti Jha is one of the highly sought after actresses in Bollywood right now and with it comes a higher net worth. She is currently one of the highest-paid actresses in India's film industry and she charges Rs 75,000 per episode. Her current accumulated net worth is approximately $2 million. This sum makes her one of the top female earners in the television industry in India today.
6. Her daughters in Kumkum Bhagya are actually her age-mates
According to the Times of India, Sriti Jha's character Pragya is the mother to three grown-up daughters. Mughdha, Naina and Vasistha. What most people are unaware of this family is that the 4 actresses are actually age-mates. She has since managed to get over this fact and certainly feels very protective of her on-screen daughters.
7. Her social life
Sriti Jha enjoys traveling and her favorite destination is Pondicherry. She also loves watching films directed by Roy Satyajit. She enjoys eating Aloo Gobi, Samosa and Dal Chawal. Her social media presence is also remarkable as she boasts of over 1 million followers on Instagram and she even has a fan club on twitter called the Sriti Jha café.
8. She was the president of her college dramatics society
When she was in college, she joined the English dramatic society called Verbum in 2004. She was later named as the club's President. While in the club she won the Best Actor award at the New Delhi University dramatics circuit for her excellent portrayal in a play called Ritual in Blood.
9. Dating life
She was rumored to be dating Kunal Kapoor Karean but she has since quashed those rumors. She has stated that she and the talented actor are just friends and that she has an immense amount of respect for Kapoor. She has also been said to have dated her on-screen love interest Harshad Kapoor and Vikrant Massey. According to Top Planet Info, fellow actor Samir Sharma had been fed the wrong info and went ahead to post on Facebook that Vikrant and Sriti had gotten married. However, the news turned out to be a hoax and the pair denied the rumors.
10. She is a brand ambassador
Owing to her large social media following and growing popularity, Sriti Jha has gotten endorsements from brands such as Accessorize India, Belleza, and Kalki among others.