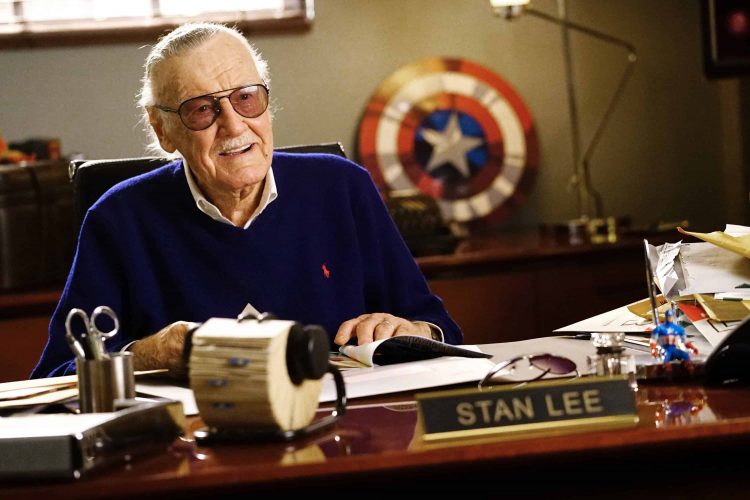 Stan Lee was a comic book writer, editor, publisher, and producer who is best known for his work for Marvel Comics. Throughout his career, he created some of the most famous comic characters, including Spider-Man, Iron Man, and Thor, amongst many others. Although it is his work in comics for which he is best known, he has now hit the headlines again for entirely different reasons.
Following the comic book writer's death in November 2018 at the age of 95, many people would have assumed that it was the end of seeing any creations by Stan Lee. However, that is not the case as Forward says that the talented man had one work that had not been seen.
Lee had written a novel called 'Stan Lee's Alliances: AmmTrick of the Light', although is already being referred to simply as 'A Trick of the Light'. It is now being released posthumously. The book was co-authored by Kat Rosenfield, who is an Edgar-nominated novelist and journalist. While Rosenfield has many years of experience in writing novels, this was Lee's first endeavor into the world of adult novels.
'A Trick of the Light' is an origin story about a man called Cameron who becomes a minor celebrity when he gains an ability to telekinetically control electronics following an accident. When an online threat to humanity becomes apparent, he is joined in his battle to save humanity by a hacker called Nia. The two combine their powers to take on the various online threats and physical forces say The Independent. The novel is set in the newly minted Alliances Universe. This universe is the co-creation of Lee, Ryan Silbert, and Luke Lieberman. Silbert is an Oscar-winning producer, while Lieberman is a writer and producer who is best known for his on 'Red Sonja.
'A Trick of the Light' is published by Houghton Miffin Harcourt and it hit the shelves on June 24, 2019. If you are a fan of Stan Lee and you want to experience this talented man's final creative endeavors, then this book is worth a read. There is also an audio version of the book available, which was released by Audible. This is narrated by Yara Shahidi, who is an actress best known for her role in 'Grown-ish'. The audio version is a chance for fans with a visual impairment to listen to Lee's work.
Houghton Miffin Harcourt senior vice president Bruce Nichols has spoken about the posthumous release of Lee's novel. He has said that Stan Lee was a creative genius whose creativity continued to flow right to his last breath. Nichols went on to say that Houghton Miffin Harcourt feels honored to publish one of Stan Lee's final projects and his first-ever novel for adult readers.  Although it may come as a surprise to some fans that Stan Lee wrote an adult for novels, they should not be too surprised that he diversified his creative talents. He has shown the diversity of his creative talents on many occasions throughout his career.
While it is his work at Marvel Comics for which Stan Lee is best known, his creative talents gave him many opportunities and he worked on a great number of projects outside of Marvel Comics.  For example, he worked in collaboration with POW! Entertainment to develop television, film, and video game properties, and this was a collaboration that lasted for many years. Lee also worked as a writer for many other comics and various types of publications. He has contributed to books and to 1821 Comics, which is a multimedia imprint for children. Stan Lee also has a history of writing for DC Comics, widely considered Marvel Comics' main rival, between 2001 and 2004.
A completely different aspect of Stan Lee's career is his television appearances. Lee has made cameo appearances in a long list of documentaries, television series, and films. While many of these were for series or films associated with Marvel Comics, there were many other cameo appearances that he made that were not linked to this comic franchise. These have included appearances in 'The Big Bang Theory', 'Entourage', 'Heroes', and 'Eureka!'. The very last cameo appearance that Stan Lee made was in 'Avengers: Endgame'. Filming finished just before he died and the film was posthumously released in 2019.
Aside from these diverse elements of his career, it is also worth noting that 'A Trick of the Light' is not Stan Lee's first book; it is simply his first novel for adults. He has previously had three books published by Simon & Schuster. The first of these was 'Origins of Marvel Comics', which was published in 1997. He then co-wrote 'Excelsior!: The Amazing Life of Stan Lee' with George Mair. This book was released in 2002. His most recent book was published in 2015. This was 'Amazing, Fantastic, Incredible: A Marvelous Memoir', which Lee co-wrote with Peter David.
Considering the diversity of his career, it is hardly surprising that he has won multiple awards throughout his life. IN 2002, he won the Life Career Award at the Saturn Awards. He also won the Visual Effects Society Lifetime Achievement Award and a Scream Award for Comic-Con Icon.  It is likely that the publication of 'A Trick of the Light' is the last creative release that his fans will see. However, he may be gone but he is not forgotten. His legend will live on thanks to his long career and his contributions to the comics industry. Fans are likely to see characters he created appearing on screens and in comic publications for many years to come. He will remain an icon in the industry and an inspiration to the young comic writers of the future.