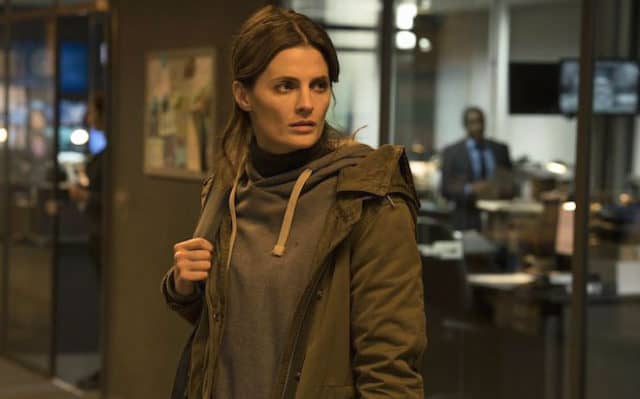 What a difference a year makes! Last May ABC announced that lead actress Stana Katic had been fired from the TV show Castle.  Now she's starring in the new series Absentia.  According to Variety, for its world premiere Absentia is the opening screening at the 57th Monte Carlo Television Festival!  That's a sure sign that Absentia is coming to television sets pretty soon. The question to be concerned about is if any of those sets will be American!
Absentia is being backed and distributed through the Sony Pictures Television Network AXN. They are the largest group under Sony Pictures Television (SPT) and have a ton of streaming outlets for their products. None of them stream to the U.S.. (For American distribution SPT has Crackle.) Â 
The idea that a show with a star formally on a major successfully American show wouldn't be available to an American audience seems odd – to Americans. Â For U.S. viewers it becomes easy to forget that America isn't the only television audience. Â The Monte Carlo Television Festival is a sharp reminder that other countries make and watch television shows we've never heard of.
So, American audiences may not be the first to see Absentia, but the producers of the show are certainly working to make sure we do get to see it!
Here's a suggestion for fans – especially Americans. If you're interested in seeing Absentia air in your country you should follow the series on Twitter and Instagram.  For one, Twitter updates what countries the show is cleared to be seen in. (You can also search for the hashtag: #AbsentiaisComing.) The bigger reason for following them on social media  is this. There's nothing like a visible measure of enthusiasm to convince the powers that be that a show has viability in a given market. 
Absentia is Coming – Why We're Thrilled
Stana Katic
The news that Katic was set to star in a new show came out last fall. (Former Castle Co-star Stana Katic Gets Her Own Show. ) Â Naturally fans of hers and the ABC show Castle were thrilled. However, even those not that familiar with her work, but who follow the ups and down of pop culture, were pleased to hear it. Â That's because the general consensus was that her being fired from Castle was yet another sexist turn by the entertainment industry. It's great to see her ultimately coming out on top.
Castle was a fun procedural dramedy, one where Katic did much of the heavy lifting on the drama side. It now serves as a warm up for her work on Absentia, which is a 10 episode full on drama and thriller. It will be great to see her in a full-on dramatic role!
The Production Values Across the Board Look Fantastic!
Like most cable and streaming shows, the Absentia production time and content is more like a film than traditional broadcast television. Â It's also a very international project, which is befitting something to be aired on Sony's AXN stations. Â The show is produced by Israel's Masha TV Â – they created the show that led to Homeland on HBO. (Katic is also an executive producer.) Â All ten episodes of Absentia are helmed by the Israeli director Oded Ruskin who is best known for the intense thriller False Flag. Â Â For production locations there are nine different countries listed – for a television show!
The International Cast
The principle cast hail from a mix of countries as well.  Some of them Americans will place on sight, others are well-known in other countries.  It's a way to creates world-wide appeal for Absentia – and for the actors.  Getting more familiar with talent from other parts of the globe is a  real plus!
A Canadian and an American
We know Katic – who is Canadian – plays FBI agent Emily Byrne. Â Being that ABC's Castle was aired in so many different countries she's a familiar face just about everywhere. Â Here she is as Emily in a twitter- released teaser photo.
The last man she loved. The only man she wants. #Absentia @Stana_Katic pic.twitter.com/CmuX2C7KjF

– Absentia (@AbsentiaSeries) April 19, 2017
The man holding Katic is her hunky American co-star, Patrick Heusinger (Jack Reacher 2). He plays Emily's husband, Nick Durand.  …Well, he is her husband, but, as the official plot summary explains, it's complicated.
She disappeared. No one heard from her for six years. No one knows what happened to her, not even her. An FBI Agent tracking a Boston serial killer vanishes, and is declared dead. Six years later, she is found in a cabin in the woods, with no memory of what happened during the time she went missing. She comes back to a husband who has remarried, and whose wife is raising her son. She will have to navigate in her new reality, and she will soon find herself implicated in a new series of murders.
Deadline added another little piece of the puzzle. The remarried husband is also an FBI agent. Â He's also still in love with his first wife…who may or may not be a murderer. Yikes!
The British Contingent
Britain's lovely Cara Theobold – you likely know her as the kitchen maid Ivy from Downton Abbey – plays Alice Durand, Nick's second wife. Â  As Ivy, Theobold played the unwitting part of the other woman in a love triangle. Â  This time her character may be the one having the man she loves stolen away.
The tidal wave about to hit her son, her husband, her marriage, her family. #ABSENTIA @CaraTheobold @ralphineson @Stana_Katic @heusinger pic.twitter.com/B0tZgHKTZ7

– Absentia (@AbsentiaSeries) May 22, 2017
There are three other British actors involved besides Theobold.  Ralph Ineson was one of the leads in the 2015 Sundance Award winning horror film, The Witch.  If you're a Game of Thrones fan you'll recognize him as Dagmar Cleftjaw from season's 1 & 2.  He was also the death-eater Amycus Carrow in the final three Harry Potter movies. In Absentia he plays Adam Radford.  Given his past roles, I wonder what kind of man Adam will turn out to be….
Life doesn't give us second chances too often. Make the most of it. 👁#Absentia pic.twitter.com/uPAfOvA1Fp

– Absentia (@AbsentiaSeries) May 31, 2017
The third British thespian is Neil Jackson.  He is best known for his role as Abraham Van Brunt (aka The Headless Horseman) on the American TV series Sleepy Hollow. However, here's a fun coincidence.  He also was in the James Bond film Quantum of Solace – which Katic also had a role in! (No, not in the same scenes.)
Last, but certainly not least is Paul Freeman.  His resume is too long to into!  Probably the most recent thing Americans saw him in was season 3 of  Amazon's DaVinci's Demon's.  However, he was the foe of Harrison Ford in Raider's of the Lost Ark.  Yes, I mean Dr. René Belloq!
American Newbies
Angel Bonnani is seriously an international guy! This former model was born in the South American country of Uruguay.  He was then raised in Australia, but later immigrated to Israel.  It would be difficult to forget a face like this!
Americans however, Â are just getting to know Bonnani as an actor. Â The Israeli is in the well-reviewed Amazon streaming show, Shots Fired. However, the rest of the world knows him from the award-winning Israeli series False Flag. That series got picked up by Fox International and got seen just about everywhere – except on American television. Â Figures, right?
In Mexico Bruno Bichir is a star – his whole family is! Â Americans know his Oscar-nominated brother, Demian Bichir, very well. Bruno and Demian were both in the FX series The Bridge. Bruno is a Silver Ariel winner (The Mexican equivalent of the Oscars) and has been nominated at least seven times!
I am here for you. To help you. To help you remember. 👁 #ABSENTIA @Stana_Katic @BrunoBichir pic.twitter.com/kcDBOhqWEO

– Absentia (@AbsentiaSeries) May 16, 2017
The Wrap Up – Television is an International Affair
In the talk of trading deficits, the U.S. is first in terms of exporting our television shows. Â Globally though. America is third when comes to making TV shows. Britain's BBC is the biggest producers of television shows. Â They are followed by Endemol Shine – which is a Dutch company. Yet, aside from a few British & Canadian breakthroughs – shows like Britain's Downton Abbey, or Canada's Orphan Black – what hits our screens are American shows. We miss out on a lot of good television.
The onset of streaming shows on outlets such as Netflix and Amazon is changing that, perhaps faster than some American television producers would like.  It means there is more competition in terms of what people can watch.  On the other hand, it also has opened the doors for a world-sized pool of viewers to view their content – regardless of  where it aired originally. A bigger pool makes it more likely that a show will find success.
Nextworks like Sony's AXN channels are a natural emergence from this reality, as are shows like Absentia. Â Absentia is coming – to an international audience that has come to appreciate complex dramas. Â Hopefully the US will be a part of the audience that gets to see it.